10 Most Colorful Spots In London Town [The Ultimate Guide]
When you think of London, you may think of grey, rainy days, the murky River Thames, and the dull brickwork of old buildings. London is actually bursting with color! It's one of the most Instagrammable cities in the world.
You just need to know the right spots to go to and how they can be reached. That's where this ultimate guide comes in. Here are our top 10 picks for the most colorful spots in London Town.
1. Camden Town
Camden is a treat for all of the senses and can be reached easily on the Underground's Northern line. There are amazing food spots, the bustle and sounds of Camden Market, and a real chill vibe in the air. One of the most thrilling elements of Camden, though, is the color.
Camden Lock boasts gorgeous greenery, as well as an indoor and outdoor market, and a bright pink rooftop bar – The Lucky Club Camden.
Camden High Street shows off London's most colorful, quirky shops. Be sure to check out the fairtrade Namaste Shop with its giant yellow elephant head welcoming customers. 
Come away from the High Street to Bonny Street, located near Camden Road overground station. Here are some of the most colorful homes in London.
2. Portobello Road
Portobello Road in Notting Hill is famous for hosting the world's largest antique market. Make sure to visit on a Saturday, when everything is open, but arrive early if you want to stay out of the main bustle of the crowds.
It's accessible by several methods, but the tube to Notting Hill Gate or Ladbroke Grove is probably the easiest.
The pastel-colored homes on the road are definitely to be admired, however, the true color is hidden away amongst the market stalls.
Lace, fur, vintage, and cultural items in the Fashion Market provide a feast for the eyes and some great photo opportunities. The Fruit & Veg section is huge and there's never a dull moment here.
You should give yourself a full day or 2 to explore Portobello Road. That way, you will appreciate the variety, diversity, and of course, color, scattered everywhere.
3. Primrose Hill
Mansions and period houses adorn the streets surrounding Primrose Hill, but they're not the usual boring brickwork we tend to think of.
If you've seen the Paddington movie, one particular street may be familiar to you. Chalcot Crescent, or Windsor Gardens as it's also known, is a dreamy street, with grand, pastel-colored houses towering over the curving road.
In 2022, it was the only London location to feature on the UK's Most Beautiful Streets list. Many tourists flock here to see this street that has appeared on many a TV screen and it has understandably been a backdrop for influencers' social media posts. 
Nearby Chalcot Square is much of the same, its colorful houses surrounding a small park area that boasts flowering cherry trees. What a treat in the Spring and Fall!
Chalk Farm is the closest tube station to Primrose Hill. Primrose Hill itself is a gorgeous, green climb, but totally worth it once you get to the top. There are views across the city and if caught at the right sunset, Mother Nature shows off with her light and color extravaganza.
4. Covent Garden (Neal's Yard)
Talk about a Maximalist's haven. Located between Monmouth Street and Shorts Garden is a wondrous alleyway that opens up into a courtyard.
The courtyard is considered a micro-village, full of colorful storefronts with decorative brickwork and window frames. You can find independent cafes, bars, restaurants, and shops here. What's more, every business is committed to sustainability.
St John's Bakery is a firm favorite, offering delectable, Instagrammable donuts. Try one of many wine options, or even stop off to get a blowout or pedicure.
You won't be the only person, however, to simply turn up to snap some photos of the gorgeous buildings. Covent Garden is the tube station serving the area.
5. St Luke's Mews
St Luke's Mews is another Notting Hill location home to bright, cheery houses. It's not far from Portobello Road, so it's simple to reach.
Some may recognize the street as the location for the movie Love Actually. More specifically, number 27 St Luke's Mews is the pretty pink house where Juliet lived.
The black ironwork and greenery stand out against the pink of the brickwork. The other houses on the charming, cobbled street are just as stunning. The greys, blues, and whites of the other homes are decorated with potted orange trees, plants, and twisting vines.
6. Carnaby Street
The street is located in the Soho area of the City of Westminster and is closest to the bustling Oxford Circus tube station.
Carnaby Street is probably most famous for its Christmas display of stunning lights. They are beautifully unique every year – past themes including the Carnaby Christmas Party, with its giant rainbow disco balls and stars elevated between the two sides of the street, and Carnaby Kaleidoscope, which saw giant butterflies and rainbows suspended mid-air. 
Though Christmas is the best time to see Carnaby Street lit up, many of the storefronts themselves are super colorful year-round.
7. Infinity Chamber
The Infinity Chamber is a stunning tunnel full of lights and mirrors. You can be immersed in some light and color therapy, or just take some unique shots for your next profile pic.
It's located not far from Neal's Yard in Covent Garden – could this be the most colorful area in London?
8. Peggy Porschen Cakes
This is arguably the most famous bakery (or as it's also known, a 'Parlour') on the internet.
Peggy's has a pastel-pink storefront, which throughout the year, is adorned with seasonal decorations such as giant pink mushrooms in the fall. The inside is just as stunning, so it's worth visiting for some delicious cupcakes or a traditional afternoon tea.
The interior design sees more pastel-pink splashed on the walls and booth seats, with mint-green chairs, and floral wallpaper. In fact, there are flowers everywhere you look.
The bakery is in upmarket Chelsea and can be accessed via the Victoria tube station.
9. Shoreditch
If you want to visit somewhere away from the usual tourist traps for a splash of color, Shoreditch is a great option. There are some extremely talented street artists in this area, and many of the streets feature jaw-dropping graffiti that's worth checking out.
Rivington Street is an unassuming location, at first glance home to shops and bars, but when explored, has lots of hidden gems. It's home to one of Banksy's works from his early days, as well as London's up-and-coming street artists. 
Great Eastern Street is regularly being updated with new street art and we can't forget Brick Lane, which joins Shoreditch to Whitechapel. This street is a photographer's paradise.
The colorful graffiti brings the place to life, along with a bustling market, a Nomadic Community Garden, vintage stores, and famous curry houses to appetize all of the senses. You can even take a guided street art tour to soak up the best of the color on offer.
There are many ways to reach Shoreditch, depending on the streets you want to visit. Brick Lane is easily reached by Aldgate East tube station or Shoreditch High Street Station (London Overground).
Liverpool Street Train Station is also a 10-15 minute walk from Brick Lane. You'll no doubt get yourself around on foot whilst appreciating the street art (Also check out The Most Instagrammable Street Art In Dublin).
10. The Mosaic House
The Mosaic House is home to artist Carrie Reichardt and is nestled on a residential street in the heart of Chiswick. This is one of our favorite colorful spots in London and is a short walk from Chiswick Park tube station.
Carrie has completely covered the front and back of her house with mosaic tiles. You need to spend some time truly studying the building to soak in all of the colors.
Two of the upstairs windows feature sugar skulls against a bright yellow background, there are snaking green mosaic vines framing the windows, and the phrase, 'I rebel therefore we exist'.
There's a Cheshire Cat, a pink front door, and two colorful cars parked outside – and that's just the front of the property. Go out back and you'll find a giant octopus and a mermaid.
Final Thoughts
That wraps up 10 of the most colorful spots in London Town. Not only are there lights, color, and grandeur to be found in the busy tourist spots, bustling markets, and shopping districts of London, but the residents have also taken it upon themselves to adorn their homes with color (Also Check out What To Wear For London In The Spring).
London is so much more than Buckingham Palace and a muddy river: navigate around and you'll be pleasantly surprised by the cheery spots mentioned above.
You will no doubt stumble upon some beautiful locations amongst the sleepy mews. Take a wander off the well-trodden paths and see what you discover.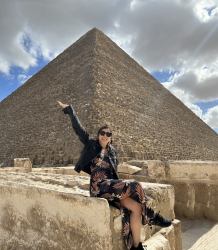 Latest posts by Claudia Torres
(see all)