10 Best Millennial Food Spots In NYC
As a millennial, there are two main things that we look for when we're choosing where to eat: the flavor, and the aesthetics.
Flavorful food may be great on its own, but what use is it if it doesn't look good enough to take a picture of it? It is easy enough to make food taste good, but you'll need to work a little harder to find snacks that look just as great.
Aside from the food, we want to sit in a café or a bar that has good vibes. Whether you're a fan of neon lights, or you prefer a more rustic setting, it all comes down to the aesthetics of the place in which you've decided to eat.
So, if you're new to New York City, or you're just stopping by to visit for a while, we've got all the millennials covered.
In this article, we have put together a list of the coolest, most aesthetically pleasing food places in the city… at least, in our opinion. The food tastes great, and the environments are filled with great vibes. What more could you ask for?
So, let's get into it. Here are the 10 best millennial food spots in NYC (Also check out Best Shows To See On Broadway).
Cereal is not just for breakfast. At the Milk & Cream Cereal Bar, you can enjoy a cereal-based treat at any time of the day, prepared in several sweet forms that we already know you're going to love.
You may either settle for the greatest bowl of cereal you've ever had, topped with a selection of toppings, or you can get your preferred breakfast dish blended into a milkshake.
You can even grab an ice cream cone garnished with Cap'N Crunch, Froot Loops, or Lucky Charms!
The exterior of this place is so cute, you won't be able to resist snapping a shot of your cereal-themed snack outside. If you've got a sweet tooth, this is a place you simply cannot pass on.
The Flour Shop was included in this list because, as millennials, it is in our nature to be drawn to anything adorned in rainbow-colored hues.
This is the place to come if you need to purchase a birthday cake in advance or just want to pick up some delectable pastries and baked products while running errands.
As soon as you walk through the front door, the motif of this bakery will make you feel like a child again, as it is so colorful and nostalgic.
Take yourself to Soho and check out this adorably tiny bakery if this sounds like your type of place. What more could you want than food that is colored like a rainbow?
The next location on our list is affectionately, and officially, referred to as 'pink as f***'. You should be able to tell what to anticipate from this place just from this.
This is the area for you if pink is your favorite color. You can savor Pietro Nolita's exquisite food while admiring the pretty-in-pink surroundings.
A fast cappuccino and stack of pancakes are available here, or you can stay a little longer and purchase a main course. Tagliatelle, burrata, or some focaccia with freshly whipped ricotta are just a few of the various Italian delicacies you can select from.
Take some shots of the restaurant while you wait for your meal. Just remember to dress in something pink!
Next, we suggest Spot Dessert Bar if you're still seeking for some delicious dessert spots. You may get some of the most creative desserts on the market in a shop with a rustic concept and simple decor.
The Harvest – a dessert made up of crushed Oreos and cheesecake with a side of raspberry sorbet, served in a plant pot – is our favorite and most Instagrammable option.
You can even get a bubble tea in a jar fashioned like a light bulb if you're feeling a little thirsty. You're going to enjoy yourself immensely with your photos in either case.
Treat yourself to some sweet sweets and drinks at one of the two locations where Spot Dessert Bar is located.
Bellocq Tea Atelier is the spot for you if you'd prefer to relax with a hot cup of tea rather than get a sugar rush. You may unwind and warm yourself in this ultra-zen store with some calming concoctions.
The Bellocq Tea Atelier is a sanctuary for the senses where everyone is welcome to browse their selection of loose-leaf teas and infusions, expensive Japanese incense, and handcrafted items from all over the world.
You can escape the noise and bustle of the city around you while surrounded by teas and snacks and take a well-earned respite.
If you're a musical theater kid at heart, you'll kick yourself if you leave New York City without visiting the fabled Ellen's Stardust Diner. Here, you can enjoy your meal in this vintage 1950s café while taking in some of New York City's most outstanding performers.
Many of the former waiters and waitresses have gone on to have prosperous careers as performers. Who knows? Aside from entertainment, Ellen has something for everyone.
Whether you're wanting their famous sandwiches or their all-day breakfast, you're sure to find it here.
So, swing by Ellen's Stardust Diner if you're searching for dinner and a show!
The next beautiful café serves food that is both aesthetically pleasing and appetizing.
If you want to sample some delicious, unusual hot beverages with pastries, baked goods, and other treats of your choice, such as sandwiches, soups, and even some cocktails, you should head to Maman.
The rustic, navy blue doors and window frames on the exterior of this store, which is located on Hudson Street, make it difficult to overlook. You can either sit inside for warmth or outside to enjoy your coffee.
This place is so lovely that you can even reserve it for your wedding. This alone demonstrates the shop's excellent aesthetics, and the delectable cuisine further enhances the experience.
Dirt Candy, a rustic establishment with both indoor and outdoor seating, is another gorgeous restaurant to take into account.
There is outside heating in the outdoor seating area, so don't be concerned if you're visiting in the cold.
While savoring their 5-course menu, you may enjoy the stunning surroundings. Despite being right in the middle of Allen Street, the restaurant has a gorgeous interior and some really delicious food.
Additionally, there is a huge selection of food available, whether you want to go with their 5-course option or would rather stick with a bagel, a few tiny burgers, or a slice of cake and coffee.
The next stop is a lovely bakery where you may pick up some sweets. The Supermoon Bakehouse has a holographic decor and lots of bright pink signs.
This bakery offers an endless selection of packed pastries, such as fruit-covered croissants and doughnuts wrapped in white chocolate and passion fruit.
The packaging for these treats, which is iridescent foil-covered colorful take-away boxes, makes the presentation almost as appealing as the food itself, which makes it even better.
So, if you enjoy both delectable pastries and aesthetically appealing settings, Supermoon Bakehouse is the place for you.
We started this list with ice cream, and we're going to end it with ice cream. This time, you can have your ice cream in a taiyaki, a fish-shaped waffle cake.
With so many ice cream flavors and toppings to choose from, you may feel overwhelmed about which kind of taiyaki ice cream you want… which is a good thing!
There are plenty of other food items to pick from, including pancakes, and standard ice cream cones. You can also enjoy some matcha lattes, and even slushies with whipped cream and sprinkles.
This is such a cute, unique place, with a location that looks (almost) as good as the food that it serves. We definitely recommend that you give Taiyaki a try while you're in NYC.
Final Thoughts
If you're a millennial, and you're looking for some of the prettiest places to stop for a bite in the big city, we definitely recommend that you check these places out. The food is to die for, and you already know that the pictures are going to be unforgettable.
Just make sure that you're ready for pictures, and that you arrive with an empty stomach. Then, sit back and enjoy the moment.
We hope you found this article useful.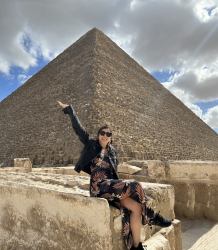 Latest posts by Claudia Torres
(see all)