10 Best Photo Spots In Seattle
If you're planning a trip to Seattle and want to find all the best places to take great photos you've come to the right place.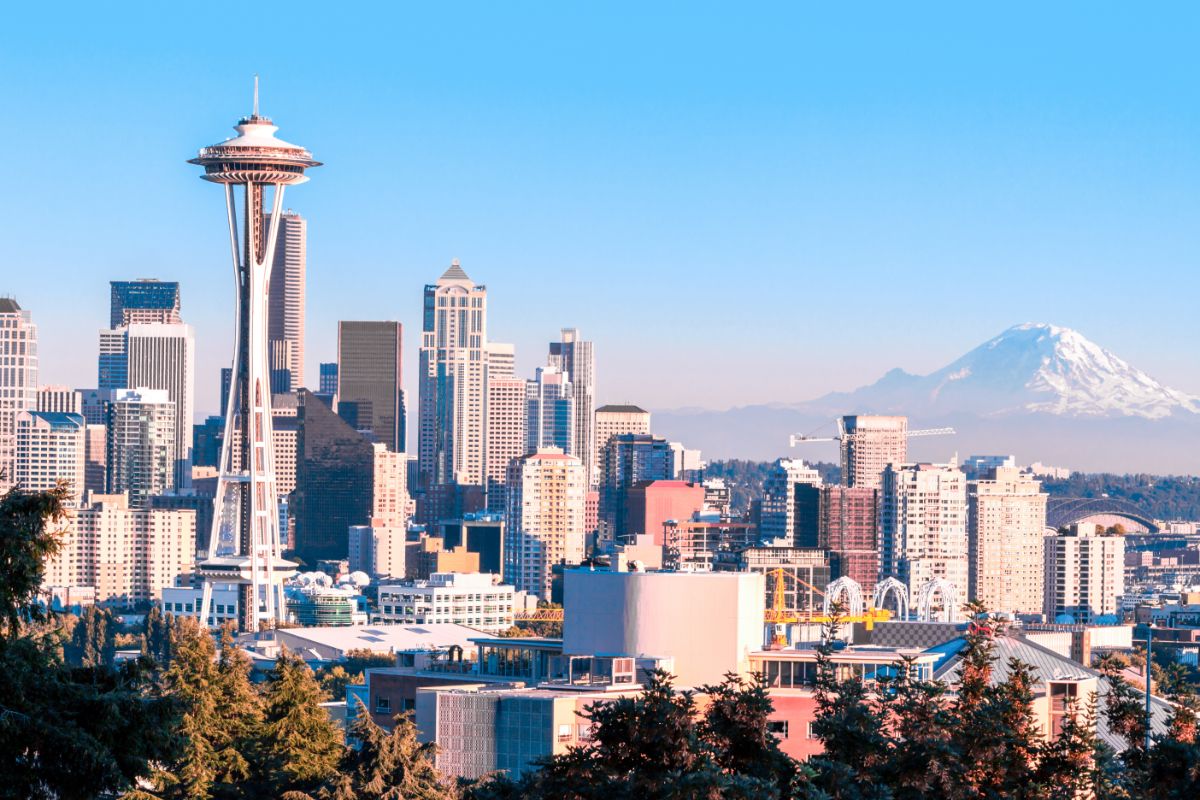 I have found the 10 best photo spots in Seattle so all you have to do is show up with your camera or smartphone.
These spots are truly worthy of Instagram so make sure you visit each one of them to be the envy of all your friends and followers.
Space Needle & Chihuly Gardens
Perhaps the most famous place in Seattle is the Space Needle.
You can jump on the monorail from downtown to a scenic and relaxing ride to this iconic building.
To get one of the best views of the city of Seattle take the elevator to the top of the Space Needle.
It can get a little crowded in tourist season, so you may have to be patient to take the best shots from here.
Afterwards the beautiful Chihuly Gardens and Glass Center, are a must-see and a great photo opportunity.
It's open year round so choose a quiet time to capture your best moments on camera.
Explore the Glasshouse and the gardens. There are so many wonderful sights to capture, you'll be spoiled for choice but will have many happy memories to look back on.
Seattle Waterfront
Seattle Waterfront offers a number of photo spots (Also check out Best Photo Spots In Portland, Oregon), from unique city views to atmospheric rainy day scenes.
Bell St pier offers some interesting shots and for nighttime photography there are the colorful city lights in the background.
It's also where the large cruise ships dock for a more unusual subject.
An absolute must as a backdrop for any photos along the waterfront is the Seattle Great Wheel.
During the day this giant Ferris wheel stands out against the backdrop of the city skyline, but it's at night when the lights come on. All 500,000 of them.
Colorful light show displays run every weekend with special themed displays for the holidays and game days.
And of course, taking a ride on the Great Wheel will give you some of the most unique views of Seattle and the waterfront.
West Seattle
West Seattle is a short drive from downtown, or if you prefer you can take a water taxi.
This area has an amazing amount of character and an abundance of natural beauty, just waiting to be photographed.
It is separated from the rest of the city by Elliott Bay and the Duwamish River, making it the perfect place to capture some amazing scenery.
You can photograph the incredible sunrise over the city skyline or at night, the reflections of the city lights in the waters of the bay.
This is the place to come for nature shots rather than city life bustle.
West Seattle has some beautiful beaches and verdant, green forests.
The local farmers market is not only full of organic fresh produce and freshly caught fish but plenty of photo opportunities too.
Alki Beach
Another fantastic photo spot in West Seattle is Alki Beach.
A gorgeous oceanfront spot for incredible photos, and it's one of the few true sand beaches in Seattle.
For this reason, it will be busy in the tourist season so be aware you may want to choose a shoulder season to visit.
Across Puget Sound you can see the city and enjoy the wonderful sunsets.
From here you will also be able to photograph the Olympic mountains in the distance as well as the many sailboats, steamships and other watercraft crossing the Sound.
Alki Point Lighthouse is one of eight on Puget Sound that is open to the public and makes a quaint backdrop for photos.
You can even take a tour around inside the lighthouse and get some great views and there are some immaculately kept grounds too.
Golden Gardens & Ballard
Golden Gardens is a popular park in Ballard which was once a Scandinavian fishing community.
This park offers wonderful views of Puget Sound as well as the Olympic Mountains with great panoramic views and photo opportunities.
Inside the park you can explore two wetlands, forest trails, miles of rugged coastline and lazy sandy beaches.
You will have hundreds of stunning views to choose from as you stroll through these gardens and the Ballard neighborhood.
On Sundays there is a farmer's market and there are lots of coffee shops to relax in as you plan your next photo stop.
One of which will be the spectacular sunsets which attract many people with their cameras and phones.
At low tide, take your camera and explore the shoreline for sea urchins, crabs and wading birds.
Out on the water the relaxing sight of sailboats against the sunset gives you the opportunity of a photographic memory to take home.
Pike Place Market & Post Alley
Seattle's original farmer's market Pike Place is full of photo opportunities whatever part you happen to be in.
One of the most famous characters in the market is Rachel the piggy bank.
She stands at the entrance to the market and is made of beautiful, shining bronze, who wouldn't want their photo taken with her!
There's even a secret garden inside the Pike Place Market where produce is grown for the local food bank and senior center.
Enjoy a drink here among the raised beds with views of the Great Wheel and the water beyond.
Post Alley is one of the most photographed streets in Seattle and is famous for its gum wall.
Literally a wall decorated with discarded chewing gum. Not to everyone's taste but certainly colorful.
Fremont
If you are looking for something a bit different and eclectic Fremont certainly qualifies.
It has a unique vibe and offers some interesting subjects to photograph.
There are things here that you definitely won't find anywhere else.
Like the troll underneath Aurora bridge or the 16 feet tall bronze sculpture of Lenin that weighs 7 tons.
If these aren't unique photo opportunities I don't know what are!
Well if that wasn't quite enough to get your camera working overtime there is also a rocket and a dinosaur topiary to fill your Instagram account.
For everything Bohemian and arty this is the place to be in Seattle.
A unique double drawbridge over the Lake Washington Ship Canal links the neighborhoods of Fremont with Queen Anne.
So head over the bridge, and I'll see you on the other side.
Kerry Park & Queen Anne Hill
Welcome to Kerry Park and Queen Anne neighborhood, you will find so much here to photograph and to serve as stunning backdrops.
This is one of the best locations to get awesome sunset photos and lots of people come here to do just that.
Queen Anne Hill is the best place to take some incredible shots of the Space Needle and with Mount Rainier in the background, it doesn't get any better than that.
You can also see the entire Seattle skyline from this elevated vantage point so make the most of it.
The weather will of course determine whether you get a good shot so check the forecast before you head out.
June to September offer you the best chances to get a good view of Mount Rainier from this spot.
Washington Park Arboretum
If you are looking for beautiful nature shots in Seattle, the Washington Park Arboretum is full of them.
There is a woodland garden, a rhododendron glen, and a Japanese garden, all brimming with stunning flowers, trees and wildlife.
There are 230 acres of gardens in total and some of the plants here are not found anywhere else in the Northwestern US.
A waterfront trail leads to Marsh and Foster Island where if you're fortunate enough you'll capture shots of herons or even some baby ducks with their mama.
In Pacific Connections you will find treasures like The New Zealand Forest, a 2.5 acre plantation of trees from that country.
While the Gateway to Chile presents some beautiful rockeries and Chilean plants.
Olympic Sculpture Park
The Olympic Sculpture Park is a must-see location for taking some unusual but unforgettable photos.
This is a free to visit nine acre open space for art, operated by the Seattle Art Museum.
One of the most spectacular and striking sculptures is a 39 foot piece called The Eagle which is a distinctive orange-red color.
Another sculpture, Wake, is a 300 ton work which is meant to depict the hull of a ship.
Not only do you have some unique and inspired sculptures to capture, but the backdrop to the park is just as inspiring.
You can enjoy the art and the incredible beauty and views of the Olympic Mountains and Puget Sound.
Final Thoughts
There are many beautiful and inspiring places in Seattle where you can take some wonderful photos and make happy memories.
This guide has only covered 10 of them but there are so many more waiting to be discovered.
I hope you get to see some of these wonderful places next time you visit Seattle.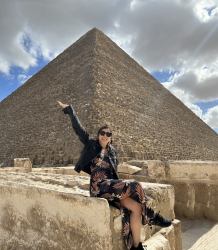 Latest posts by Claudia Torres
(see all)