Why You Should Visit Tulum (Mexico's Hidden Paradise)
Mexico is renowned the world over for its attractive landscapes, vibrant culture, and beautiful tourist destinations that attract people from all over the world. However, one place that seems to slip under the radar is Tulum – a place of natural beauty, and historical significance.
But what exactly is Tulum, and why should you visit it?
What Is Tulum?
Tulum is a pre-columbian Mayan walled city located in the Mexican state of Quintana Roo.
Known for being one of the last cities built by the Mayans, Tulum served as something of a fortress against Spanish attacks between the 13th and 15th centuries.
The city is thought to have been known as Zama, which means 'city of dawn' – a name that possibly derives from the fact that it is facing the east from which the sun rises.
Where Is Tulum Located?
As mentioned previously, Tulum is located in the Mexican state of Quintana Roo – which in itself is located on the eastern part of the Yucatan Peninsula.
Tulum itself is a coastal city, and is located on a bluff facing east towards the Caribbean Sea – a location that made it a lush and habitable place for the Mayans to settle, but also a notable target during Spanish colonization.
How Hot Is Tulum?
In the summer, Tulum tends to reach an average of 85 degrees fahrenheit, making it relatively mild and habitable – even for those who aren't fans of the heat.
As with much of Mexico, foreigners might think of it as being entirely desert – however like most countries on the planet, Mexico has much variety in terms of environments and regions.
Due to the coastal location, the sweltering summer heat can be interspersed with bursts of cooling rain – a notable godsend to locals and tourists alike, and a much needed source of hydration for the lush landscape.
Reasons To Visit Tulum
Of course, due to its historical significance and natural beauty, Tulum is frequented by countless tourists each year – many of whom travel from Mexico, South America, and from all over the world.
The History
As a pre-columbian walled city, Tulum has a rich connection to the Mayan peoples who resided in Mexico before Spanish colonization.
This can be a great way to get in touch with the history of the country, and to experience a taste of what Mexico might have been like before colonization from other countries.
Some famous historical buildings include:
The temple of the Frescoes – an observatory used for tracking the movements of the sun.
The Temple of the Descending God – the place where the statue of the 'descending god' is stored. The statue has wings, a headdress, and holds an object in its hands.
El Castillo – El Castillo is an example of a Mayan pyramid, and stands over 25 feet tall. There is a temple with a break in the walls, directly opposite a break in the barrier reef, which would have made it a prominent trading location for canoes. 
The Landscape
As mentioned, the landscape of Tulum is absolutely beautiful, and represents a side of Mexico not represented in mainstream media.
Consisting of white sandy beaches, crystal blue oceans, and lush green tropical palm trees, it really is a paradise on Earth, and in many ways remains a hidden gem, even amongst Mexico's best traveled tourists.
Shopping
Near Tulum, there has been a large tourist development, which has only added to the volume of people who come to explore the Mayan ruins.
As such, there are numerous shopping outlets, where you can experience local produce, consumer, high street goods, and as many bargains as your luggage can hold.
Tulum Cenotes
Tulum is also home to several cenotes – that is, natural sinkholes full of water. These look like something from an adventure movie, and are natural beauty spots renowned for their clear blue waters, dramatic scenery, and as places great for making memories with loved ones.
Chichen Itza
Located just a short bus ride away is the famed Mayan site of Chichen Itza – known the world over for its pristinely preserved exemplification of ancient Mayan pyramid building.
This is a must for anyone visiting this region of Mexico, and really is like taking a journey back in time.
The Beaches
Tulum is also home to some of the most beautiful beaches in the world – perfect for those looking to relax, unwind, and get some much needed sunshine.
Some popular beaches include:
Playa Paraiso (Paradise Beach)
Playa Ruinas
Las Palmas Public Beach
The Food
Tulum and the surrounding region also has some of the best, most authentic food in the country, and is home to many fine restaurants that serve everything you could ever hope to find.
Temazcal Ceremony
For those wanting to experience something a little more authentic and cultural, then why not try a Temazcal ceremony?
These take place in Mexican sweat lodges, and can be great for purifying the mind and body, healing sickness, and experiencing practices performed by the people of MesoAmerica long before the Spanish colonization.
Visit Cancun
For those seeking the hustle and bustle of city life, then Cancun is only a short trip from Tulum. This has everything you would want from a modern city, and can be a great place to shop, relax, and take in the vibrant nightlife of modern Mexico.
Final Thoughts
And there we have it, everything you need to know about Tulum, and the numerous reasons why you should visit as soon as possible!
Tulum is a beautiful part of Mexico's coastline, and has much historical and cultural significance to the country and its pre-Columbian history – making it a continually popular place for locals and tourists alike to flock to and experience.
So if you are looking for a hidden gem on your trip to Mexico, then why not pay Tulum a visit? Something tells me you won't be disappointed!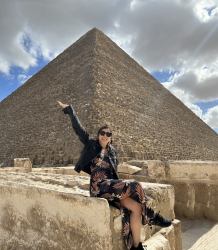 Latest posts by Claudia Torres
(see all)