The 10 Most Fun Things To Do While In Miramar Beach, Florida
If you have never heard of it, Miramar Beach is a stunning coastal town that is located in the northwestern part of Florida. This town is well known for the beautiful white sand on its beaches and the picturesque blue water which almost does not look real!
There are plenty of amazing activities to indulge in if you choose to visit this town in Florida, and this is part of the reason why it is so popular. Some of these activities include; fishing, kayaking, swimming, sunbathing, and enjoying the restaurants and shops which are in the town.
There is something for everyone in this town, so no matter what kind of activities you like to do, you will find something you want to do here!
You could choose to swim in the ocean's clear water in the Gulf of Mexico, and there are plenty of beaches to choose from with a lot of them being public, or if you are not a fan of swimming you could spend a day just walking along the beautiful beaches.
If you want to try something new, there are plenty of places where you could try something like kayaking or paddle boarding.
Because of all the amazing activities which are doable at Miramar Beach, we have chosen to limit our list to just 10 different activities to choose from so you have plenty of choice, but not an overwhelming amount of options.
There should be something here for everyone, so make sure to look at this list with the people you are travelling with so you can find something for everyone to enjoy!
So, if you are planning to go to Miramar Beach, and you want something for everyone to enjoy, keep reading!
Best Things To Do In Miramar Beach
These are 10 of our favorite things to do at Miramar Beach, there are some things you should keep in mind about all of these choices, so ensure that you read our descriptions closely!
Topsail Hill State Preserve
What Can You Do Here?
You can reach this spot with just a short drive from Miramar Beach and you will find this state preserve located at Santa Rosa Beach which is a beautiful beach just nearby.
The main difference between this beach and Miramar Beach is the more calm atmosphere which is a great change of pace.
This is one of the best spots to go near Miramar Beach if you are a nature lover and want to see some stunning natural scenes.
In this state park you will find some great biking and hiking trails, and there are also some amazing spots for camping. If you love fishing there are some good spots for this here as well.
This park gets its name after the massive sand dunes which you find here, and they really contribute to the scenery in a meaningful way!
As well as the more active activities to involve yourself in, there are some more calming options as well like; bird watching, swimming, and picnicking!
You have the choice of doing the mile walk between the beach and where you enter the park. But, if you do not want to have to do this you can also take a trolley as well.
If you have already been to Topsail, you could also go to Jolee Island Nature Park which is another area with some beautiful sights as well.
What Should You Keep In Mind?
Try to plan around whether you are using the trolley or the walk in as it will impact how much time you have to spend at the park.
Who Will Love Going Here?
If you are getting burnt out of how busy the main part of Miramar Beach is, going to this state park is a great option to get away from everything!
Grand Boulevard At Sandestin
What Can You Do Here?
You can get to Grand Boulevard At Sandestin by just a short car ride from Miramar Beach and it makes a great break from the busy atmosphere of Miramar Beach.
This spot is essentially an outdoors shopping center and you will find a great variety of restaurants and shops to choose from.
On top of this, you can also choose to stay here with them also having their own hotel too. There is also a movie theater which is a useful addition as well!
The range of restaurants is perhaps our favorite thing about this spot with some more upscale and more relaxed options available.
For something more refined you have the choice of Emeril's and Fleming's Prime Steakhouse and Wine Bar. But there are also some more relaxed choices like Starbucks and Jimmy John's as well.
The shopping center also hosts plenty of fun activities like art and farmers markets. There are also plenty of dinner shows available as well as some live music options and sometimes even festivals.
The farmer market in particular is a highlight and you will find it at the shopping center every Saturday between 9 and 1 all year round!
What Should You Keep In Mind?
Different activities here are on at limited times, so if there is something specific you want to see, try and plan your trip to this shopping center around this.
Who Will Love Going Here?
If you want a relaxed day out shopping with some great eating options to choose from, this shopping center is a top choice!
Snorkeling At The Dolphin Reef
What Can You Do Here?
If you love swimming, trying snorkeling At Dolphin Reef is a great way to see the underwater side of both Miramar Beach as well as South Walton as well.
You will find plenty of spots which are perfect for snorkeling along the coast, and one of the spots which is best for it is at Dolphin Reef. At this spot you will find a large variety of marine life with some jellyfish even being viewable as well!
This is by no means the only water based activity available at Miramar Beach. For example parasailing is pretty popular here with this also being a great activity for adults or kids at any skill level.
There are even tour options for parasailing if you want to double the activity with seeing the sights!
There are also some great options for fishing on the beach as well. Deep sea fishing is a popular option with boats available to rent if you want to try this explorative option.
We also recommend going to the Harbor Boardwalk at Destin too since there are plenty of activities there which are loads of fun like jet skiing and paddle boarding. You can also go on boat tours and fishing charters from here as well.
What Should You Keep In Mind?
Some of the water activities will be available depending on your skill level, so make sure you are signing up for something appropriate for you.
Who Will Love Going Here?
If you love underwater activities, any of the choices listed above are going to be perfect for you.
Zoo Gallery
What Can You Do Here?
This spot has been established since the late 1970s and has been popular with animal lovers since then.
This location is famous for the artwork you find which depicts different animals from different parts of the world. There is also a charming gift shop which offers plenty of animal themed options like furniture, t shirts, pottery, and jewelry.
If you are here we also recommend going to Grayton Beach as well as Destin which are pretty nearby.
Who Will Love Going Here?
If you are an animal or art lover, this well established gallery will be a fun trip!
Waterfront Dining
What Can You Do Here?
One of the best things about Miramar Beach specifically is the big range of dining options which are available. This is whether you just want something quick to bite on, or a bigger multi-course meal.
One of the more popular locations for dining at Miramar Beach is Pompano Joe's, Surf Hut, and The Crab Trap. There is also Royal Palm Grille and Whale's Trail too if you want something different.
If you want something pretty casual we recommend the Barefoot's Beachside Bar and Grill for some quick options.
What Should You Keep In Mind?
Some of the more high scale options here can book up quickly, so if you know you're coming here, make sure to book in advance!
Who Will Love Going Here?
One of the best things about Miramar Beach is all the dining option, so take advantage of this as much as you can!
Miramar Beach Regional Access
What Can You Do Here?
Here you will find Gulf Beach which is right by Gulf Drive and you will find beautiful soft sands and clear waters. You can spend the whole day by the beach and sunbathe as much as you want.
There are also plenty of water based activities available to do too! This spot is right by the aforementioned Pompano Joe's so if you are planning to visit, try to make a reservation!
Who Will Love Going Here?
If you want to have the perfect beach day, then heading here is a perfect choice!
Village Of Baytowne Wharf
What Can You Do Here?
This area has a stunning town center which has a great variety of shopping, eating, and entertainment options available for you to indulge in. This is also a great option for families with lots of kid friendly activities like the playground, carousel and even an arcade.
Who Will Love Going Here?
If you want to go to a town with a great variety of activities, this is a perfect choice near Miramar Beach.
Rainforest Black Light Golf & Arcade
What Can You Do Here?
This super unique activity is fun for any age group with the black light mini golf being the star of the show! This visually stunning version of the classic game is great if you want to try something new!
There is also a restaurant nearby called the Melting Pot which is famous for its amazing fondue which you have to try!
Who Will Love Going Here?
For a quick fun unique activity, this is a top choice!
Take A Ride On Scenic Gulf Drive
What Can You Do Here?
We mentioned this drive earlier, which is also occasionally referred to as Scenic Highway 98 and this is a great drive to do which is around 5 miles long and takes you a beautiful route along the Gulf Beach.
Who Will Love Going Here?
If you want to get away from the bustle for a beautiful drive, this is the best option in the area.
Play At Miramar Beach Golf Courses
What Can You Do Here?
If you want something a bit more mature than the black light mini golf, then this full sized variety will be a much better fit.
This set of golf courses is great if you are more experienced at golf, but will still have some options if you are a beginner. The course is 18 holes long and is great for any skill level.
Frequently Asked Questions
Where Is Miramar Beach?
You can find Miramar Beach in the northwestern part of Florida and it is right by the Gulf of Mexico (Also check out Things You Can Do In Clearwater Beach, Florida). In comparison, it is 9 miles eastern of Destin and about 40 miles western of Panama City Beach.
You should be able to get to this location easily since Highway 98 goes right through it!
Where Should I Go? Miramar Beach Or Destin?
You will often hear this location being compared to Destin since the two locations are quite close to each other.
These cities are quite interconnected so you will not really have to choose which one to visit, with Miramar Beach being seen by some as an extension of Destin and something to do if you are visiting.
Just by quantity, there are more options in Destin, but if you are more interested in the type of activities available at Miramar Beach, then this is where you should visit if you have to choose one.
What To Do For Free On Miramar Beach?
Out of the activities we listed in this article the ones which are free to do are; Baytowne Wharf, Gulf Drive, the Grand Boulevard at Sandestin, the Miramar Beach Public Beach Access, and the Zoo Gallery.
Summary
Hopefully this list has given you an accurate impression of everything Miramar Beach has to offer and the wide variety of activities which you can choose from when visiting this beautiful beach town!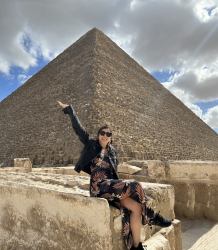 Latest posts by Claudia Torres
(see all)