The Comprehensive Guide To Crab Island Destin Florida
Arguably one of the most popular destinations for both locals and tourists on the Emerald Coast of Florida, Crab Island is the perfect relaxation spot.
Whether you're looking to discover some great restaurants and bars, lay on the beach for hours on end, or get involved with some of the many water activities that go on, there's something for everyone at Crab Island, which is exactly why it was featured on Good Morning America's "GMA's Most Beautiful Place" segment! 
So, if you're looking for a comprehensive and in-depth guide to everything you need to know about Crab Island in Destin, Florida.
Then look no further, as we'll cover all of the talking points about this fabulous getaway spot. So what are you waiting for? Get reading! 
What Is Crab Island?
Despite the name, Crab Island isn't actually an island. Whilst this news might be disappointing for some, it does make it an easier destination to visit than an island would be.
Crab Island is actually a massive underwater sandbar, with clear green waters that really make the Emerald Coast live up to its name, and are perfect for engaging in water activities, such as snorkelling, and swimming.
The story goes that the sandbar did actually used to be an island, which was in the shape of a crab, which does help to explain its slightly unusual name, alongside the hordes of hermit crabs that call Crab Island their home.
Typically, boats will anchor themselves in the shallower sections of the water, whilst inflatable toys are set up to provide entertainment for younger visitors, alongside vendors providing food, drinks, and a whole range of watersports too, such as paddle boarding or jet skiing.
As you can imagine, Crab Island has been an extremely popular destination for families for years, but it feels like it's only now beginning to really get the recognition it deserves, especially since it was featured on Good Morning America!
So, if you want to get a better idea of what Crab Island is and what it has to offer, we're sure that you'll find this guide incredibly helpful, as we've covered everything you need to know.
One of the reasons why people adore Crab Island so much is because unlike other typical holiday destinations, getting to Crab Island does actually feel like an adventure, especially since you'll need to take a boat ride to reach this amazing party in the ocean.
That's right, although it's not actually an island, there is no way of reaching Crab Island by car or walking, and a boat is the only way to reach it.
Don't worry if you're not overly fond of boats, however, as the ride is quite short, so you get all of the feeling of being on an island, without actually being too far from shore. 
Crab Island is found a few miles out from Fort Walton Beach, and it's the perfect place to unwind and catch some sun next to (or in this case, in) the sea!
The water at Crab Island is shallow, which makes it family-friendly, and has calm enough waters that every swimming ability can enjoy.
It's also not far from some stunning white-sand beaches, as well as being just a short journey away from HarborWalk Village, which means you're close to a load of amazing restaurants on the waterfront too.
Where Is Crab Island? 
There's often some confusion as to where Crab Island is, but it's not too difficult to find, so allow us to explain.
Crab Island can be found right at the southern entrance to Choctawhatchee Bay, which is north of the Marler Bridge (on Highway 98), and isn't too far away from both Destin's East Pass and Norriego Point Beach. 
As previously mentioned, not far from Crab Island to the east is Destin's Harbor and the HarborWalk Village shops, and to the west of Crab Island, you'll find Fort Walton Beach.
When you look at a map, you'll notice that Crab Island is actually incredibly close to the Gulf Of Mexico, and is just south of the Gulf, and its calm and relaxing waters are thankfully shielded from the rough waves that the Gulf is known for.
How To Get To Crab Island
Since Crab Island is actually a little bit offshore, it's not recommended that you attempt to reach Crab Island, no matter how confident you are in your swimming abilities, this is mainly due to the immense amount of boat traffic flowing between the mainland and Crab Island, along with the uncertainty of the currents.
Therefore, the best way to reach Crab Island is either to take a pontoon or a boat. You can do this either by renting your own boat or by hiring a tour for your family or group.
You can also reach Crab Island by kayak, jet ski, paddleboard, or by shuttle boat! If you're looking for a place to rent jet skis, kayaks, or paddleboards, then you can do so at HarborWalk Village, which is just under the bridge from where Crab Island is located.
The safest method is definitely to hire a tour guide with their own pontoon, as they're familiar with the waters, and will also be able to provide you with supplies so that you can sit back and relax as you make your way to Crab Island.
You'll usually board the boat at the Gulf Islands National Seashore Boat Launch, and you can either head straight over to the sandbar, or ask your guide to give you a tour of the surrounding areas, which will include places such as the East Pass, and Destin Harbor!
Things To Do At Crab Island
Being one of the most popular attractions in all of Florida, there's no surprise that there are loads to do whilst at Crab Island.
So it doesn't matter if you plan on being at Crab Island for just a few hours, or even a couple of days, there's plenty to keep you and your family entertained whilst you're there. 
Crab Island is a great place to socialize, so if you just want to relax, listen to music, play drinking games and get some food from one of the many vendors available, then Crab Island is a great place to do so.
If you like marine life, then you could spend a few hours observing some of the fish, dolphins, hermit crabs, and other various species of animals that call Crab Island their home.
Although you have to watch out for the boat traffic, snorkelling and fishing are two of the most common activities at Crab Island, and maybe you can put Destin's title as the "World's Luckiest Fishing Village" to the test!
Kayaking and paddleboarding are popular too, and there's often an inflatable obstacle course or water park nearby too.
Once you've finished with your day of fun and relaxation at Crab Island, it doesn't mean that the fun has to stop, and there is still a lot of fun to be had, even after your time at Crab Island has ended for the day. 
The Okaloosa Island Boardwalk located just a couple of miles away in Fort Walton Beach is a great place to spend the evening, with a gorgeous beach, plenty of shops and restaurants, as well as a great fishing pier too.
Opposite the boardwalk is Wild Willy's Adventure Zone, which is a good place to visit if you're looking for fun activities, including a mini-golf course and arcade. HarborWalk also has zip lines, axe throwing, boat rides, and even the occasional concert.
What To Bring To Crab Island
So, what do you need to bring for a fun day out at Crab Island?
Well, you'll be glad to know that there is often a store located out on the water, which should be able to provide you with any of the essentials that you might have forgotten, but it's always best to bring everything with you to Crab Island! 
For a full day on Crab Island, here are some of the essentials that you'll need:
Sunscreen
A hat
Bottled water
Towels
Sunglasses
Flip Flops
Goggles
Drinks Cooler
Food and Snacks
Waterproof Case for Cell Phone
Alcohol
Bluetooth Speaker
Typically, most cruise options will provide essentials such as lifejackets, bottles of water, a cooler and ice, drinking games to play, a first aid kit, and a lily pad.
When To Visit Crab Island
As one of the busiest destinations in Florida, it can be difficult to figure out when the best time to visit Crab Island might be (Also check out Things You Can Do In Clearwater Beach, Florida).
Many people will recommend visiting Crab Island when there is a high tide, which is when the water from the Gulf deposits into Choctawhatchee Bay, which is what gives Florida's Emerald Coast the incredible green color that makes it so popular.
The best time of year to visit Crab Island ultimately depends on what sort of atmosphere you are looking for when you visit.
If you're looking to go to Crab Island for the party vibe, then the best time of year to visit is during the Memorial or Labor Day Weekend, and for the best party crowds, then try visiting on the 4th of July! 
The peak season for Crab Island tends to be between April to October. If you're looking for the best time of year to visit when bringing your family along with you, then try visiting Crab Island during the week, as the party atmosphere tends to be reserved for the weekend. 
Where To Stay To Visit Crab Island
Since Crab Island is offshore and on shallow water, there is nowhere to stay, so instead you'll need to find somewhere to stay nearby in order to pay this iconic holiday destination a visit.
Thankfully, Destin has plenty of places that you can stay nearby, and there are some great places to choose from. 
Can I Bring My Child To Crab Island? 
Initially, it might seem like a slightly bad idea to bring your children along with you to Crab Island, especially since it's known for its party-centric and sometimes rowdy atmosphere. However, Crab Island is still a great place to visit with children.
The party really starts the later it gets in the day, so if you want to visit Crab Island with your children to relax and soak in the sun, then try to visit in the late morning to early afternoon.
Weekdays are also a much better time to visit in comparison to the weekends, especially if it's a holiday weekend. 
Can You Buy Alcohol At Crab Island? 
Whilst there is a load of different vendors on the mainland that sell loads of different and delicious cocktails and mixed alcoholic drinks, it is worth noting that Crab Island's vendors don't sell any alcohol at all, so it is up to you to bring your own alcohol to Crab Island if you want to drink and party.
If you are planning to drink during your time at Crab Island, it is worth bringing along a cooler filled with ice to keep your drinks cool during your time in the sun.
Police boats do tend to frequent the area as well to ensure that everything is under control, so don't expect to get too rowdy without any consequences!
Is Crab Island Safe?
Mainly people worry about safety at Crab Island, but the reality is that it's incredibly safe, so there's little to worry about.
The depth of water at Crab Island only tends to go a few feet deep, which makes the island safe for everybody, including children. This means that the water tends to be about waist deep, but it is often even shallower. Although it is worth noting that the occasional spot can be 10 feet deep. 
It is advised against attempting to swim to or from Crab Island, and there have been unfortunate incidents where people have underestimated the difficulty of the currents between Crab Island and the mainland, and they have subsequently drowned.
Alcohol tends to be the main cause of any problems or mishaps that happen at Crab Island, so whilst it is possible for you to enjoy and have fun in the party atmosphere at Crab Island, just be mindful of the dangers that the water might pose.
Things To Note
Before you begin booking your accommodation and time off work to visit Florida's Emerald Coast, it is important to know that in recent years there has been a sharp increase in the restrictions placed upon both Crab Island and the vendors and businesses that operate there.
So, to ensure that your time on the sandbank is going to be an enjoyable one, you should always check if there are any ongoing or upcoming restrictions to know about before you book your visit, otherwise, you might be disappointed!
Summary
Maybe now you can perhaps understand better why Crab Island is such a popular destination for families and party-goers alike, its incredible location, picturesque scenery, and the amount of flexibility with how you spend your time is why so many people choose Crab Island as their holiday destination each year.
So, it doesn't matter if you're just looking to relax in the sun and sea to get away from life's pressures for a short period of time, or you're looking to spend the holiday weekend partying it up along the coast, making your way to Crab Island is always a great idea for those looking to make the most of their summer vacation.
Don't forget to thank us when you find yourself relaxing on an inflatable on the water with a beer in your hand when you do eventually visit Crab Island. Thanks for reading!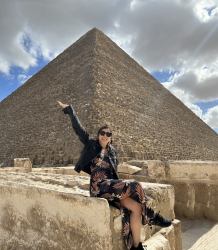 Latest posts by Claudia Torres
(see all)