15 Best Italian Restaurants In NYC [From Lillo To Via Carota]
Anyone who loves in or has visited New York City knows that if there is one thing that the city can do well, it's making some excellent Italian food.
There are hundreds of Italian restaurants in the city, most of which are family-owned by Italians who came to the USA throughout the years.
If you wanted to, you could visit a different Italian restaurant practically every night of the week because of the city's sophisticated white tablecloth throwbacks, pizza parlors, and sleek high-concept ventures.
With so many wonderful and tasty Italian dinner options to choose from, it can be hard to narrow down where to go for dinner.
It can be even more confusing for tourists who can get overwhelmed by the many options to choose from.
With something for everyone, you are sure to find the perfect Italian restaurant to visit on this list!
1. Lillo
This very popular eatery first opened as a cafe, but in recent years it has become known primarily for its evening offerings.
While you won't find any bathrooms or booze in this small restaurant, that hasn't stopped people from visiting because of the delicious Italian cuisine they create.
The lasagna ragu at Lillo's is one of the most popular dishes, with people telling the staff that it reminds them of their Italian grandmothers cooking because it's so good.
If that's not for you, then there are plenty of other meals that you can try.
The meatballs at Lillo's have the perfect combination of texture and sauce, and the fettuccine with a speck of Parmesan cream sauce s is almost too decadent and rich, but you will still be coming back for more!
2. Roman's
If you can only pick one Italian restaurant to go to in NYC, then we cannot recommend Roman's enough.
Roman's exudes an air of effortless sophistication with casually sophisticated decor and a very large menu of Italian dishes, all made with local ingredients.
3. Trattoria Zero Otto Nove
The Zero Otto Nove on Arthur Avenue in the Bronx's Little Italy is adorable, but there are other locations of this restaurant in Manhattan and Westchester as well.
The interior design walks a fine line between being generally Italian-inspired and themed, producing a delightful impact no matter if you are there with a date or a large group of your family.
The menu of Zero Otto Nove is very large and varied, so there is sure to be something for everyone here.
4. Lucali
Even though it's been around for 15 years, Lucali is still considered a relatively fresh addition to the legendary pizza places in Brooklyn.
This newcomer has quickly become one of the hottest places to experience some delicious Italian cuisine.
People begin to line up for a chance to get a table about an hour before the restaurant opens, and then they wait for hours before they are finally able to sit down to enjoy the BYOB and the highly recognized, peak-form pizza.
If you don't feel like waiting a few hours for your meal (even though it's really good food!) you always have the option of going to Lucali's recently launched spin-off restaurant, Baby Luc's.
Here you can still find many of the menu Items that Lucali makes, especially pizzas.
There might still be a line so get there a bit early, but it won't be as long a wait as the main restaurant.
5. Il Buco
The restaurant Il Buco, which is now in its 28th year, continues to be as popular as it was when it first opened.
Part of the reason for this is the space's exceptional old-world allure, which makes it feel like you have traveled back in time to try some authentic Italian dishes.
House-made pasta options such as Torchio with twilight sausage asparagus and pecorino, and tagliatelle with black truffle and Parmigiano are just some of the many tasty dishes to try here.
6. Denino's
Since 1937, Denino's Pizza has been providing residents of Staten Island with delicious pizza at an affordable price.
Loved by the locals and even celebrities at times (Pete Davidson is known to pay a visit) it's a great place for larger groups to go to.
You and your friends or family can enjoy a wide selection of pies, with toppings that will please everyone.
If that wasn't good enough, they also serve many tasty Italian entrees like eggplant parm and sausage and broccoli rabe or pep.
7. Noodle Pudding
Ok, to start with the not-so-great things about this restaurant, they currently only accept cash, and they do not take reservations for parties of less than five people.
However, the experience is ultimately worthwhile if you do decide to go.
If you have the time and willpower to wait for your dinner, and you are fine with paying cash for your meal, then Noodle Pudding is an excellent restaurant for you to seek out.
At Noodle Pudding, you will be able to enjoy a variety of delicious rice balls, carpaccio, pasta dishes, and much more.
8. Vesta Trattoria And Winebar
Located in Astoria, Vesta is a great place to go if you want to have a quick sip of wine at a bar, but it is also a lovely place to bring a date to.
You may order a couple of appetizers for yourself, or you could split a pizza or a pasta dish like the gnocchi with roasted leg of lamb, eggplant, tomato ragu, and ricotta, or the wild boar lasagna.
9. Rubirosa
Just off Mulberry Street, you'll find the entrance of the downtown location of Rubirosa, which is run by the owner's family.
The interior is as adorable as a commemorative plate, but the crockery here is occupied with crowd-pleasing lists of antipasti, fritti, homemade pasta, panini, and all manner of pizza permutations, in addition to a few typical red sauce main dishes.
10. Rezdôra
Rezdôra, which launched in 2019 and quickly became one of the most critically acclaimed restaurants in New York City, continues to rack up honors despite having just opened its doors.
Its regional pasta tasting is a superb introduction to dishes that are influenced by the Emilia-Romagna area of Italy and cost $98.
However, exquisite à la carte selections are also offered for lunch and dinner and are priced individually.
11. Emilio's Ballato
Emilio's is a unique establishment that exudes an enticing allure and a certain vintage charm that dates back to the year 1956.
Its weathered walls are covered in tightly spaced framed pictures, which are illuminated by gorgeous chandeliers
At Emilio's, you can expect an enormous portion of veal parm, sausage, and broccoli rabe, in addition to an abundance of pasta.
Sadly you cannot make reservations at this restaurant, you just have to turn up and hope that they have space for you, or wait until a table becomes available. The wait will be worth it for this food though.
12. Al di Là
Before holding their ribbon-cutting celebrations, aspiring restaurant owners in Park Slope should familiarize themselves with this sociable Fifth Avenue mainstay.
Even though it first opened its doors in 1998, Al di Là continues to be the best restaurant in the surrounding area.
The braised rabbit, the tagliatelle with ragu, and the black spaghetti with octopus ragu are all wonderful examples of Northern Italian dishes made by Al di.
13. Bamonte's
Every fan of red sauce in New York City should make it a point to stop by the legendary Bamonte's at least once.
It first opened its doors in 1900, and it still has a lot of old-world allure. It is the idealized version of a vintage Italian restaurant in Brooklyn, complete with all of the menu items to match.
14. Don Angie
If you want to visit an authentic family-run and owned restaurant, then you can't go wrong with a trip to Don Angie's!
Run by a husband and wife team, Don Angie's has been popular ever since it opened in 2017. The popular location is one reason for this, with people calling up at all hours of the day to make a reservation.
If you want a spot at this restaurant, you must book your table at least a few weeks in advance.
When you get there, you should try some of the pinwheel lasagnas that helped the restaurant achieve its outstanding reputation in the area.
15. Via Carota
Even though it opened in 2014, Via Carota is still a popular restaurant in New York City.
It is so popular that if you hear that a table is free, you should honestly change all of your plans to go to this restaurant, as this might never happen again.
This restaurant is always so busy thanks to the popular dishes on the menu, such as the hand-chopped sirloin, overflowing Insalata Verde, and subtly gorgeous pasta platters.
Summary
Try any one of these amazing Italian restaurants the next time you are planning a trip to New York City, it will be the best meal you have ever had.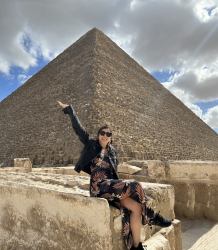 Latest posts by Claudia Torres
(see all)