10 Best Photo Spots In Madrid
Madrid is one of the best cities to visit in Europe, and as Spain's capital city, it is filled with loads of places and attractions that you should make sure you visit during your stay.
However, it can be disappointing when you come back from a European adventure to find that you haven't been able to grab some perfect Instagram-worthy photos. 
This is especially true with Madrid, which is brimming with photo opportunities at every corner, so if you're planning to visit, then you definitely need to get to know what Madrid has to offer you in terms of photo spots, otherwise, it'll be like you never went at all!
So, if you're looking for more information about the best photo spots (Also check out Best Photo Spots In Edinburgh) to be found in Madrid, then read on, and we'll provide you with all the information and details about where to go for the best photo opportunities!
Best Photo Opportunities In Madrid
So, whether you want to fill your photo gallery with vibrant greenery, impressive historical statues, or just wonderful architecture, Madrid is a city that brings together the modern and the historical world together, so it's definitely a place you're going to want to capture as much as possible. Let's take a look at the 10 best photo spots in Madrid.
Plaza Mayor
The former center of old Madrid, Plaza Mayor is an incredibly large public square, which is not only teeming with great eateries and shops but also makes for a fantastic photo spot too.
The entire square is surrounded by old buildings whose architecture is rich in history and culture, so it doesn't matter what angle you decide to take your photos from, the backdrops are always going to be beautiful. 
Also found in the square is the statue of King Phillip III, so you should ensure that you get a photo of it whilst you're there, it's one of the most iconic statues in Madrid and is another great way to get a photo opportunity in!
Plaza Mayor can be found in the Centro District and is between the Tirso De Molina and Opera metro stations.
Calle Gran Via
Calle Gran Via, which translates to "The Great Way", is probably one of the most popular streets in all of Madrid. This urban esplanade is known for playing home to some of the most popular shopping areas in the entire city and is also where many of the city's hotels are found too.
Calle Gran Via is also sometimes known as "The Spanish Broadway", and it is instantly recognizable thanks to its impressive 20th-century revival architecture, which makes it stand out from the rest of the historical architecture you'll find throughout the Spanish capital. 
If you're looking for somewhere which has a range of architectural styles to choose from for your Instagram backdrop, then you're in luck, as Calle Gran Via has Plateresque, Neo-Mudejar, Vienna Secession, and Art Deco, and many more different styles, which is why it's so popular as a photo spot!
Calle Gran Via is just a ten-minute walk from the city center, so there's no excuse not to visit!
El Oso Y El Madroño
El Oso y el Madroño, which translates to "Statue of the Bear, and the Strawberry Tree" is another one of the most magnificent statues you can find in Madrid, and it is made entirely from stone and bronze, and is found on a granite pedestal, reaching a height of over 4 meters.
The tree is important to the city as it represents the coat of arms of Madrid, and when you take a closer look at some of the local heraldry, you'll be able to witness the deep connection to the city.
The statue can be found to the northeast of Plaza Mayor, on the east side of Puerta del Sol.
CaixaForum Museum
If you're looking to blow the minds of your friends with your photo spots, then paying a visit to the CaixaForum Museum should definitely be on your to do list when you visit Madrid, especially if you're a fan of innovative architecture.
On one side you have an entirely vertical garden, and on the other, you have a building that actually appears to be levitating, which is a sure way to make your Instagram followers guess as to how you made it happen!
The secret to these incredible illusions is something that we'll let you discover when you visit. So if you want to use the CaixaForum Museum as a backdrop, then you shouldn't have too much of a problem, as it's only a 10-minute drive from Madrid's city center.
Puente Monumental De Arganzuela
If you want to bring some modern architecture and design to your Instagram feed, then a picture posing on the Puente Monumental De Arganzuela should help to bring that extra edge to your pictures!
The Puente Monumental De Arganzuela is a footbridge that has an insanely unique design that features curved steel plates that cover the walking platform.
You can also get photos of the bridge both from a distance, and from inside the bridge itself, so you should ensure that you get both of these photos during your visit. 
The inside of the bridge features wonderful interior lighting, which means that you can even get your photos in during the night time too.
Plus, the sky openings in the steel plates even help to provide the perfect contrast between the natural world and modern architecture. 
Real Jardín Botánico De Madrid
If you like to incorporate nature and color into your Instagram feed, then many people will tell you that you definitely need to pay a visit to a botanical garden to provide a magical backdrop for your photos, and if you're in Madrid, then visiting the Real Jardín Botánico de Madrid should be one of the top things to do during your visit to this great city.
The greenery and color of the exotic plants found in this wonderful garden make for great Instagram backdrops and there are several outdoor sections, along with 5 greenhouses, which house 1,500 trees and over 90,000 plants!
The herbarium is also quite the sight, and it's the largest in all of Spain, and contains over a million different specimens from right around the world. If you're looking for the garden, then you can find it just to the southeast of the city center. 
Círculo De Bellas Artes
If you're looking for a scenic view of the city as well as a look into the cultural side of Madrid, then a visit to the Círculo de Bellas Artes is in order.
The Círculo de Bellas Artes is known for its various art exhibitions, and with the building dating back to the 20th-century, the architecture of the building is also an incredible sight, which is why so many people flock to it for a photo opportunity.
The best part about the building however is easily the panoramic view on the rooftop, which can give you views of the entire city! It's also completely accessible to visitors, which means that anyone can take in these amazing views.
The building is easy to find too, as it's opposite the Edificio Metropolis!
Calle De La Palma
If you're looking for a quiet and old street to take photos in, the buildings in this street are many centuries old, and are a great way to showcase the old architecture of the city in your Instagram posts.
The restaurants and shops on this street all have unique appearances too, which will help your posts to stand out from the rest.
It's important to respect the people that call this street home though, as there are also some residential buildings on this street too. 
Palacio De Cristal
Palacio De Cristal, which translates to English as "The Glass Palace", is a magnificent sight to see during your time in Madrid, and also makes for a fantastic photo opportunity too.
This conservatory has a structure composed entirely of glass, with an iron frame that provides it with its regal look. 
The palace is also set right next to a lake with a fountain, so an Instagram photo here would be a great way to bring that royal feeling to your feed!
Temple De Debod
Originally an Egyptian temple that was deconstructed and moved to Madrid, a photo at the Temple De Debod will help provide you with that historical edge to your posts, and will have your followers questioning whether you're in Egypt, or Spain!
Conclusion
So, as you can see, Madrid is absolutely brimming with great photo spots, and these aren't even all of them!
But, if you're looking to make sure that you grab plenty of great photos during your visit to Madrid, then this is certainly the best place to start, thank you for reading!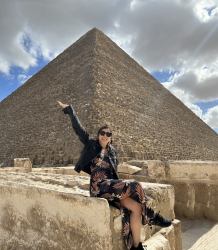 Latest posts by Claudia Torres
(see all)