Oxford: The Ultimate Travel Guide To Britain's Academic City
Oxford is famous around the world for it's world-class university but the city has so much more to offer travelers and tourists.
The city has a rich history full of beautiful buildings and views and its also a hub for delicious food and drink.
With so much to do in Oxford, it can be difficult to know where to start. If you only have a limited time in Oxford, you might have more plans than you have time for.
That's where this article can help. This is the ultimate travel guide to Oxford, Britain's Academic City.
How To Get To Oxford
Let's begin by looking at how you can get to Oxford.
By Air
The closest large international airport to Oxford is London's Heathrow Airport. This is one of the biggest and busiest airports in the world so no matter where you're coming from, you should be able to get a flight to Heathrow.
There is a bus service that runs between Heathrow and Oxford city center every two hours. It takes around one hour and 30 minutes and offers services such as WiFi and USB charging hubs.
There are no direct trains between Heathrow and Oxford, but you can make the journey in around one hour and 30 minutes with one transfer.
By Train
Oxford has a busy train station in the city center. Trains from London are pretty frequent and take only 50 minutes. You can also get trains to Oxford from most major cities throughout the UK as the country has a good rail network.
By Car
Oxford is easy to reach by car, as well. It is serviced by several major roads such as the M40 and M4. The journey from London will take around 1 hour and 45 minutes.
Parking within Oxford city center is very limited, however, so you will need to plan ahead to ensure that you have adequate parking.
How To Get Around Oxford
Once you're in Oxford, the city is easy to get around. The city is small enough to be seen entirely on foot but if you do need some transportation, you have several options.
Bus
There are many buses that operate around the city. The city is serviced by several different bus companies but you can buy a day-ticket that covers all of them for only £4.20 per day. This will give you unlimited travel for one adult during any calendar day.
Bicycle
Oxford has a network of bike paths that you can use to cycle around the city. The city also operates a bike rental system that allows you to rent bikes from bike docks around the streets. This is all organized and paid for through a dedicated app.
Taxis And Ride Sharing
You also have the option of using either taxis or Uber. Like most cities, the prices are dependent on distance and time of day and some journeys can quickly become expensive if you're traveling during busy hours.
Things To See In Oxford
Let's now look at some of the best sights in Oxford. These are our recommendations for the best tourist destinations in the city.
First opened in 1621, Oxford's botanic gardens were the first to open in the country. It stretches over four and a half acres and contains over 5,000 different plant species.
It's recommended that you book the tickets in advance during busy periods to guarantee entry on an specific date. Tickets cost £6.30 per adult and children aged under 16 can enter for free.
You can visit three of the library spaces at Oxford University. The history of the libraries dates back for over 400 years and they are stunning buildings.
Guided tours of the libraries cost £9 per person and need to be booked in advance. There are also free exhibitions that you can visit at the Weston Library.
These change every several months so check the website to see which exhibition will be featured during your visit.
Punting is a popular activity in Oxford for its uniqueness. If you want to try something different and get some fun photos, then we highly recommend punting.
At it's core, punting is an activity where you push a small boat down a river using a large pole. This is commonly done on either the River Cherwell or River Thames in Oxford, and as well as being a fun activity, it will allow you to see some of the most beautiful natural landscapes that Oxford has.
Oxford is a beautiful city that has things to see around every corner. This makes it the ideal city for a walking tour.
The city is compact enough that you can simply walk around on your, but we would recommend booking a walking tour. There are many different companies that offer these and will show you important sights.
There are several themed tours you can choose from as well. Oxford has been the location for many movie and TV productions and has also inspired many famous authors. For example, you can take a C.S Lewis & Tolkein tour, a Harry Potter tour, or even a late evening Ghost Tour.
When To Go To Oxford
Like the rest of England, Oxford isn't a city that sees extreme temperatures. The summer months of July and August are the busiest season in Oxford and the average temperatures are around 70 degrees Fahrenheit.
England can have intense heatwaves but these are short and difficult to predict.
Spring and fall are both milder and prone to rainy weather, but are still pleasant and comfortable times to visit Oxford. Snow is rare in Oxford, even during teh winter months, and temperatures rarely drop below freezing.
Final Thoughts
In this article, we took an in-depth look at Oxford. We discussed how to travel to Oxford and how to get around once you are there. We recommended some of the best sights and activities in Oxford as well.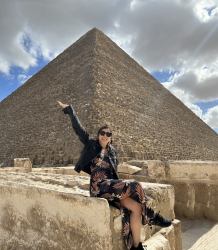 Latest posts by Claudia Torres
(see all)