What To Pack For A Weekend In Lisbon?
Lisbon, the capital of Portugal, serves as the heart of a diverse region that has retained a village-like atmosphere in each of its historical neighborhoods.
While there, you might find yourself walking through the unique streets in the Baixa neighborhood with it's grand plazas or strolling by the river to find some of the most beautiful areas of the city such as Belém with its beautiful monuments.
You may also find yourself visiting the most recent contemporary recreation areas, like the Parque das Nações.
Whether for a one off break or a routine trip to visit family or friends, you may be wondering "what do I need to pack for my weekend in Lisbon?".
Here we'll go over what you may get up to on your short break from your usual day-to-day activities and what you'll need to bring with you to make the most of your visit.
What Size Bag?
As you won't need to pack for a full week (or longer), you'll not need to worry about packing up a full-sized suitcase. Any more than a nice compact 40L duffel bag or streamlined suitcase on wheels is probably going too far.
If you really feel you could pack lightly, even a standard backpack will do (though you definitely want to go for more of a hiking-sized backpack if you want to pack for more than a few activities!)
Also keep in mind that a backpack is often the most comfortable way to keep your belongings on the move without much effort.
An alternative to this could be to use a cross-body strapped bag. It's best to keep in mind if you'll need to carry around much while you're there (such as if you're bringing a camera!) which you can repurpose a backpack into a useful aid for.
Also, if you do feel you'll need to carry things around with you and are not packing with a backpack, bring along a smaller bag for daytime use!
General Clothing
Naturally, the first thing on your mind to pack is clothing for your time away, so be sure to pack an outfit for each day you expect to be wandering the streets of Lisbon. You can always minimize this however by packing clothes that you can mix and match!
Remember, you'll have the clothes you'll be wearing on the day you leave too so if you're happy with the shoes you're wearing on the trip for example, you may not need to pack another pair!
The most common kind of clothing you'll find in Lisbon is smart casual, neat and tidy jeans being a very typical option for the younger generation.
Keep in mind the warm weather of Portugal (Also check out The Ultimate Travel Guide To Sintra) will be at play as it can be hot pretty much all year round (but this doesn't make it free from rain!)
While great for a trip to the beach, don't feel it's best to wear shorts on your visit to the shops or restaurants such as O Vinhaça, Prado and Belcanto while you're there, you are likely to be labeled a tourist which can unfortunately lead to undesired attention.
Instead, wear smarter clothing, with perhaps some sandals if it looks to be extra hot during your trip!)
We'd definitely recommend packing a pair of sunglasses no matter when you're headed there given the intensity of the Sun is likely to be a factor for you while there.
Help Your Feet
Given your feet will be very busy on a typical trip over to Lisbon, we definitely advise comfortable footwear. Something you know you can take thousands of steps in, feel generally comfortable in and are aesthetically pleasing to go with your outfits.
While you'll not need some walking boots, you'll certainly need shoes you don't mind going the distance in!
For women, if you do feel you'd like to wear heels for an especially fancy night out, still feel free to bring them! It's just best you save them for light walking or exclusively for the special occasion itself.
Fancy A Swim
You may be wondering if you'll need a bathing suit, this will depend on both the hotel and if you're a fan of swimming by the beach!
If you know your hotel doesn't have a pool and if you don't think you'll want to dip in by the local beach, you'll be best keeping your bathing suit at home.
Sensitive Locations
As you may expect in any country, there are locations in Lisbon that you need to take extra attention with.
If you are planning to visit religious sites on a cultural tour or one independently such as The Church of St. Dominic or the bold Lisbon Cathedral, be sure to have packed clothing that will cover your shoulders and legs as such locations may find issues with these areas being bare.
If you have a Pashmina, this is a great way to adjust your casual wandering outfit into one suitable for these places of worship.
Remember The Weather
Earlier you may recall we mentioned that while Lisbon can be temperate all year round, it's not free from a shower or two. If you are visiting towards the end of the year, you're going to potentially be rained upon.
This isn't a big deal however as keeping a simple, lightweight raincoat will clear that concern right away. If you've seen rain on the forecast or are simply traveling during or after fall, pop one in your bag!
Packing Recap
While your personal style will dictate the specifics of your pack, here is a rundown of what we highly suggest end up in a small weekend bag:
Sunglasses to handle the bright sunlight
Sensible smart casual clothing for exploring the streets
Shorts for the beach
Swimwear if you plan on taking a dip
Comfortable shoes
Raincoat (Weather dependent)
Covering clothes (perhaps a Pashmina) for certain locations
With this, you should be all packed and can enjoy your weekend away!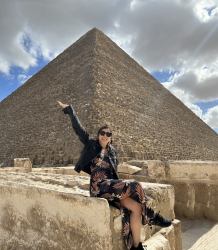 Latest posts by Claudia Torres
(see all)