What To Wear For London In The Spring
Dressing for all of the different seasons in the year is important because of the weather changes and not being too hot or too cold.
You have to dress for the weather and to be comfortable when walking around the streets of London.
This guide will be covering what the best styles and trends are to wear in London during the Spring.
It will be explaining all of the different options you can mix and match to create a really good look this Spring.
There will be a variety of different options to suit everyone!
The Best Shoes
A nice Chelsea boot is always a good idea all year round because you are able to style these with practically any outfit.
Chelsea boots are a classic choice for autumn, Spring and winter.
Choose from a range of designs and materials, such as suede, faux suede, suede, and more.
Chelsea boots are created with a high-top, single-strap design, with a leather-like upper and rubber sole that gives the boots a casual, yet stylish look.
Chelsea boots are a classic style that can be worn for work or for play.
For work, Chelsea boots are smart, practical and versatile.
For play, Chelsea boots are comfortable, stylish, and fun and are a great choice for walking around London all day.
Skirt
Wool skirt is a very versatile skirt. It is suitable for all seasons, and can be worn with a range of different tops and styles.
Whether you are going out to a party, attending a wedding or a casual evening with friends, a wool skirt will make you look gorgeous.
It is also perfect in the Spring with a nice pair of thick tights because there will still be a cold breeze during this time.
A wool skirt is a perfect basic for your wardrobe.
It's warm and versatile, and you can pair it with anything from a turtleneck to a chunky sweater.
They are easily paired up with many different types of tops and jackets too depending on the color.
Wooly Jumpers
Jumpers are going to be a key part of your clothing because you will want to be keeping warm with some layers that you are able to take off if the sun decides to come out.
Wooly jumpers are the ideal winter warmer. With the right yarn, they're easy to knit, and they're great in a camisole or a vest.
Warm yourself up with a wooly jumper this winter. These great wooly jumpers will keep you toasty warm, and you can enjoy the great outdoors all year round.
Scarf And Gloves
A scarf is a fashion accessory that can be worn in many different ways.
It can be a part of a complete outfit, or it can be a fashion statement all on its own but it is also there to keep your neck warm against those cold breezes during the Spring.
Gloves will also be super important if you find yourself walking outside quite a lot because you want to keep your hands warm because the rest of your body will stay warm.
This also goes for wearing thicker socks and keeping your feet warm too.
There are lots of different styles you can match with your outfit and leather gloves always tend to be a stylish look.
Thick Dress
If you are thinking of wearing a dress then you will want to make sure it will keep you warm and thicker, mid length dresses tend to be super popular with a nice long coat.
Midi dresses can come with all different types of flexibility depending on the occasions, but if you're walking around all day, you will want something stretchy and comfy.
Coat
Your coat that you bring is another really important part of the clothing you bring because you will need something that will suit the rest of your clothing and also be practical.
there can be showers during Spring which can be irritating, so either bring a coat with a hood or a compact umbrella.
Puffer coats have become extremely popular and also long, classy coats in cream and nude colors is the style.
Trousers
When in London, there is so much to do and in the Spring you want your legs to be warm so you aren't moaning about being cold all day.
Therefore, trousers have also become a very popular trend because they are easy to match up with other items of clothing and accessorize with.
A nice pair of cream trousers, with a shirt or wooly cream jumper and a long coat with boots is the perfect combo that people want to wear. It is not only stylish, but it is practical for London.
Conclusion
Overall, London is a place where there are so many things to do, you need to pack for different occasions.
The Spring weather can be very up and down in terms of temperature and rain which is why you need to be prepared.
Hopefully this guide has given you a good idea of the type of clothing which is stylish for London wear, but also practical for walking around and seeing the sights all day as well.
You can mix and match most of these pieces of clothing, but these are just a few ideas to take inspiration from to find the perfect outfits for you when you travel.
Frequently Asked Questions
Is April A Good Time To Visit London?
Yes, April is a brilliant time to visit London because it is when the weather starts to warm up and you can start mixing up your outfits and layering them lighter than in the winter months.
You can do much more in the Spring outdoors as well because there will be less rain and you can enjoy the trip more.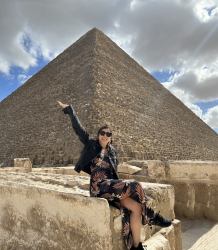 Latest posts by Claudia Torres
(see all)