A Week In Costa Rica [What To See And Do]
Costa Rica is a beautiful country located just south of Nicaragua and Panama.
If you're looking for a tropical destination where you can enjoy pristine beaches, amazing wildlife, and natural wonders, then Costa Rica is for you.
The country is home to incredible national parks like Manuel Antonio National Park, Monteverde Cloud Forest Reserve, Corcovado National Park, La Amistad International Park, and Tortuguero National Park.
These parks are among the best places to see wildlife in the entire Americas.
You'll find plenty of birds, reptiles, mammals, fish, butterflies, and even sloths and monkeys.
You don't want to miss out on seeing any of these animals either because there are many zoos and aquariums throughout the country that allow you to do so.
For example, the zoo in San Jose is known for being one of the best in Latin America.
And while you're here, make sure to check out the country's coffee farms.
There are over 200 different types of coffee beans grown in Costa Rica alone.
And since the country is such a paradise, you'll also find lots of wineries and breweries too.
Let's look at some of the best things to do when in Costa Rica.
1. Visit San José
San José is the capital city of Costa Rica and it's where most of the action happens.
This area is filled with restaurants, bars, clubs, museums, and galleries.
It has a lot of character and offers something for everyone.
The best way to explore the city is via scooter, bicycle or foot.
There are many restaurants open serving food and drinks outdoors.
Many people eat lunch outside while sitting on benches set up along sidewalks.
2. Visit Central Valley & Arenal Volcano
Arenal National Park is home to one of Costa Rica's most active volcanoes.
In 1968, Arenal erupted violently, spewing ash into the sky and forcing thousands of people to evacuate.
A few months later, another massive eruption occurred, killing over 200 people.
Today, there are still signs of volcanic activity around the park.
Some of the craters and calderas are filled with bubbling mud pools, while others contain small lakes.
And there are some beautiful views of the volcano along the way.
The park itself is quite large, covering nearly 400 square miles.
However, most visitors come here to enjoy the waterfalls, hikes, and wildlife.
There is no shortage of adventure options in the park.
You can take a zipline tour, rappel down a waterfall, or go kayaking. Or you can just relax in the hot springs.
3. Hike To Volcan Poas
You can take a bus down to the town of Sarchí.
From there, you can hike up to the viewpoint of Volcan Poás. This hike is easy but takes about four hours.
4. Soak In A Hot Spring
La Fortuna is home to some of Costa Rica's best hot springs.
There are over 40 different places you can soak up the benefits of the natural thermal water.
If you're staying at a hotel, ask about spa packages that include access to the hot springs.
Alternatively, there are plenty of independent hot springs where you can just show up and enjoy yourself.
Most hotels offer day passes to locals and visitors.
Prices vary depending on the place, but you'll usually pay anywhere between $25-$40 USD for adults and $10-$20 USD for children.
5. Visit Manuel Antonio
Manuel Antonio is one of the most popular destinations in Costa Rica.
With miles of pristine beaches, crystal clear waters, and towering green hills, it's easy to understand why travelers flock here every year.
If you're looking for a little adventure while you're staying in Costa Rica, consider taking a day trip to Manuel Antonio.
You don't have to worry about driving since there's a shuttle bus that takes guests from San José to the park.
Once you arrive, you'll find yourself surrounded by stunning beauty.
There are many ways to spend your days in Manuel Antonio.
One of the most popular activities is to go zip lining.
This unique activity allows visitors to glide through the forest.
While you're gliding down the trees, you'll enjoy amazing views of the Pacific Ocean and the surrounding areas.
After you finish zipping around, you might feel hungry.
Luckily, there are numerous restaurants where you can stop and grab a bite to eat.
Some offer delicious meals while others serve snacks.
6. Explore Monteverde Cloud Forest Reserve
This forest reserve is home to many species of cloud forest animals.
One of the coolest sights here is the resplendent quetzal bird.
These birds are native to Costa Rica.
7. Visit Tortguero National Park
Tortuguero National Park is located just 30 minutes south of San José, Costa Rica.
This is a great place to visit if you want to spend some quality time with nature.
You don't even really need to go into the park itself; there are plenty of tours that take visitors out into the surrounding forests.
But if you do decide to venture inside the park, then you will find yourself surrounded by lush vegetation, beautiful waterfalls, and a variety of wildlife.
There are also several trails within the parks that allow you to explore the forest on foot.
The most famous animal species found here are the green sea turtles.
They come ashore to lay their eggs during the rainy season, usually between June and November.
During this period, you will probably see many people walking around the beaches looking for turtle tracks.
You might also spot howler monkeys, sloths, coatis, and white-faced capuchin monkeys.
And since the park is home to over 50 bird species, you can definitely expect to see plenty of birds while you are here.
Conclusion
Visiting Costa Rica is an experience unlike any other.
The country offers so much more than what meets the eye.
From its friendly people to its breathtaking national parks, Costa Rica has something for everyone.
It doesn't matter whether you are traveling solo or with friends and family.
No matter when you visit, be sure to pack your bags and get ready to fall in love with this magical destination!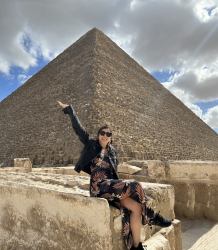 Latest posts by Claudia Torres
(see all)