Amazing Things To Do In Seaside, Florida, Including The Best 30A Beaches To Visit!
Seaside in Florida is one of the most memorable towns on the East coast.  It has been called the little town that could by many travel bloggers and it is easy to see why.  One of the best things that this town has to offer is variety. 
It is the perfect town to visit in Northwest Florida with the whole family because there truly is something for everyone (Also check out Things You Can Do In Clearwater Beach, Florida).  Whether you are looking for physical adventures, stunning beaches, or incredible food, there is something for you at Seaside. 
In this article, I will show you some of the most amazing things to do in Seaside, Florida.  I will show you some of the best beaches to visit along the 30A.
Hit The Trails At Grayton Beach Park
One of the things that you absolutely cannot miss out on if you are visiting Seaside is Grayton Beach State Park.  This is an area of such outstanding beauty that you should allocate proper time to take it all in. 
If you are a keen nature photographer, there are plenty of opportunities to get some stunning shots here.  In addition to the beauty of this state park, there are also some incredible trails that you can hike here. 
There are two main trails that you can explore at Grayton Beach Park.  The longest trail is 4.5 miles long and is paved.  Because this trail is paved, it means that you can walk it, cycle it, or even skate it. 
The paving also makes this a very accessible trail for all levels of mobility and fitness.  The path itself passes through a gorgeous coastal forest made up of scrub oaks and stunning magnolia flowers.  
Despite the paved pathway, this is quite a long trail, especially if you have younger family members with you.  The other main trail that you can explore is a more manageable 1 mile long. 
Perfect for anyone who wants a shorter hike to take in the sights and nature without feeling exhausted.  This trail is not paved and therefore, it might be slightly less accessible to those with limited mobility. 
This trail passes through the pine Flatwoods and dune ecosystem.  If you have any budding ecologists in your group, they can try to find different specimens on the walk.  
The best thing about either of these hikes is that at the end, you can cool off in the gorgeous crystal blue waters of Grayton Beach.
Eat At Airstream Row
If you are driving along highway 30A, you won't regret stopping off at Airstream Row for a bite to eat. Rows of iconic, shiny Airstream trailers are home to some of the most unique food establishments in Seaside.
Airstream Row started when a man called Case Cooper lost the retail space for this shaved ice restaurant.  He chose to purchase an Airstream trailer and continue selling his products out of that instead. 
Over the next 20 years, the area transformed into a gorgeous little community of vendors that sell delicious gourmet food from their own Airstream trailers.  
If you visit this location in Seaside, you can visit the original Airstream to get some shaved ice at Frost Bites.  If you love some savory street food like me, you can also get something like a grilled cheese sandwich or Hawaiian BBQ. 
No matter what your preferences are, there is an Airstream food truck that has something for you.  Whichever food you decide to try, you can enjoy it sitting at one of the picnic tables in the street, or you can take it to the beach (You might also want to check out What To Do At Laguna Beach?).
Do Yoga In The Pavillion
If you are looking to take a trip that involves some physical activity, Seaside is the perfect location for you. 
The hikes can be fun, but if you are wanting something a little more relaxing and restorative, you can take part in a yoga class that is held at the beautiful Pavillion.  
If you are someone who finds a yoga class to be one of the best ways to relax, taking a class where you can hear the sounds of the waves rolling onto the beach could be your ultimate vacation activity. 
The Vinyasa yoga classes are held on weekday mornings in the Pavillion and start at 8:30 am. 
The classes are entirely dependent on the weather, so if this is something that you really want to do, you should plan your trip for times of the year when the weather is better.  
Yoga classes at the Pavilion can be paid for by cash, check, or Venmo. 
Space is limited and classes are conducted on a first-come, first-served basis so you need to get there early if you want a good chance of getting in.  you should bring your own mat, towel, and water bottle to the classes. 
Try Local Wines At The Seeing Red Wine Festival
If you are going to be visiting Seaside in mid-November, are going to be over the age of 21 at the time, and enjoy red wine, you might like to check out the Seeing Red Wine Festival. 
This festival is held over a weekend and has been included in the Top 10 Can't-Miss Fall Wine Festivals list by Fodor's Travel.  
Grapes might not be the first fruit that you think of when you think of Florida.  However, there are quite a few stunning wineries in the state. 
The wine festival in Seaside has become an annual tradition that showcases some of the finest local and regional wines available.  Restaurants and businesses also get involved in the festival to provide delicious food that pairs perfectly with the different wines.  
All of the businesses involved in the Seeing Red Wine festival work with local charities throughout the event. 
Therefore, getting involved means that you are also helping out some worthwhile local causes too.  If you are looking for a fun and altruistic, adult event in Seaside, this is the perfect option. 
Challenge Your Friends At WaterColor Tennis
Another fun and physical activity that you and the whole family or group can get involved in at Seaside is tennis.  WaterColor Tennis is a boutique tennis club where you and your friends can engage in some fun cardio activities. 
The club features five clay courts, two pickleball courts, and a pro shop. 
The best thing about WaterColor Tennis at Seaside is that you don't have to have your own racket.  You can simply make a reservation and they will provide you with everything that you need to have fun and stay fit with your group. 
It is important to make a reservation as the club can get quite busy and they may not have a free court or free rackets for you to use otherwise.  
Aside from simply hiring a court for a couple of hours, the WaterColor Tennis club often holds events such as Cardio Pickleball that are super fun for everyone to get involved in. 
If you are an Avid tennis player or fan, this is a great place to add to your itinerary for your Seaside trip.  
Visit The Chapel At Seaside
Another location in Seaside that has incredible beauty is the Chapel.  Again, if you are an avid photographer, this is a place that you won't want to miss.  The Chapel offers some of the most stunning views and photography opportunities in the town. 
Luckily, the Chapel is quite hard to miss as it is the tallest building in the town by far.  The building also features a unique bell tower that looks just as stunning at night as it does during the day poking above the tops of the trees. 
The Chapel is an architectural marvel that was designed by Scott Merrill.  Inside the Chapel, the bottom of the balcony is see-through.  This means that a large amount of natural light can get inside the building and light it up beautifully.
The Chapel is small, only holding 175 people, but it is a popular wedding venue, and the bell chimes every Sunday morning adding a quaint feeling to the whole town.  
Ride Bikes Around The Town
If your stay in Seaside is more than just a flying visit, a great way to get around and see the best parts of the town is to rent bicycles. 
The three most popular areas in the town are not that far from each other, especially if you are on a bike rather than on foot. 
Between WaterColor, Seaside, and Seagrove Beach, there is a plethora of shops, restaurants, and beaches that you can spend your time cycling between.  
One of the best things about renting bikes in Seaside is that it has been designed to support this mode of transportation. 
As I mentioned above, there is a stunning trail around Grayton Beach Park that is paved and can be comfortably cycled around. 
Also, all of the beach access points around Seaside feature bike racks to keep your bike secure while you are enjoying the beach.  
There are also plenty of bike racks located around the town to allow you to hop on and off your bike when a shop or restaurant grabs your attention.  
There are multiple companies that you can hire bikes from, all of which have very similar rates. You can also hire electric bikes if you want something that is even more leisurely and easy.
Santa Rosa Beach
Santa Rosa Beach is a stunning beach that is well worth a visit when you are passing through Seaside.  The best access for locals and tourists is via the Ed Walline Beach Access.  
The beach here is a free public park which means that it has plenty of parking and amenities that help you to have an easy, relaxed, and fun beach day on your trip. 
Some of the amenities that are available at Santa Rosa Beach include restrooms, pavilions, viewing platforms, and picnic tables. 
During peak seasons, there are also lifeguards present to help ensure that you are safe when enjoying the water. 
If you visit during off-peak seasons there are no lifeguards on the beach, therefore, you should take extra care when you are in the water.  
The location of this beach in terms of shops and restaurants, combined with the extensive amenities that it possesses year-round make it a perfect place to spend a day with your friends or family, soaking up the sun, enjoying good local food, and playing in the sand and water.
Check Out The City Landmarks
Despite being a small town and community, Seaside is actually considered to be a city, and it is bursting with stunning landmarks that are definitely worth a visit during your trip. 
From Hollywood icons to an important post office, there is something to interest everyone. 
The Truman Show House
If you are a fan of Jim Carrey, or you were a fan of The Truman Show, this is a landmark that you will not want to miss out on. The famous house that the titular character, Truman lived in is located in Seaside.
In the movie, the house was located in a town called Seahaven instead of Seaside.  The town was also on an island in the film, a crucial part of the story, but Seaside is definitely not an island. 
However, there are other locations scattered around Seaside that were also used in the Hollywood movie.  You can find maps that show you where all these locations are if you want to do a full Truman Show tour. 
Beach Pavilions
One of the things that makes Seaside such a popular and unique vacation destination is the stunning and clever architecture.  There are a total of 9 beach pavilions in Seaside that have dual purposes. 
One the one hand, they are landmarks of beautiful design that make for great photo opportunities for your vacation photos and social media.  One the other hand, they are entrances to the beach for locals and tourists.  
All of the beach pavilions look different from each other and are maintained by different street associations in the area. The distinctive looks of each of the pavilions makes it easier to get your bearings during your stay.
Seaside Post Office
A post office might not sound like it would be a landmark in a city, but the one in Seaside is special.  On the surface, the post office is one of the oldest buildings in the city and makes for a great photo opportunity during your trip. 
It is also a place that holds huge significance in the Seaside community as it is the main way that they have been legitimized as a city.  
Browse The Seaside Farmers Market
If you are looking for a quaint town to take your vacation, Seaside has plenty of things to do that fit into the quaint theme. One such thing is the stunning farmer's market. 
The market is located between the shops and the food trucks, perfect for rounding out a packed day in the town.  
The farmers market is held every Saturday morning no matter what the weather is.  One of the main goals of the market is to educate the community and tourists about the benefits of sustainable local farming practices. 
It also aims to introduce the public to the people that are responsible for growing the produce.  This makes the process of buying groceries and cooking dinner a lot more personal. 
It also is designed to encourage people to make more sustainable, healthy choices when they are shopping.  
In the open-air market, you will find fresh, locally grown produce, dairy, meat, baked goods, and freshly caught fish. Remember to bring your reusable grocery bags to take home your healthy, local purchases.
Van Ness Butler Beach
One of the best things about Seaside, without a doubt, is the amount of amazing beaches along the 30A area.  One of the most beautiful beaches in this area is the Van Ness Butler Beach. 
If you enjoy days spent relaxing on white sandy beaches with stunning clear waters, this is the perfect beach for you.  Van Ness Butler beach also has some of the best parking availability in the city.  This is great if you are stopping off in Seaside during a road trip.  
The beach is manned by lifeguards during the peak season and there is excellent disabled access via a ramp.
Cheer At The Halloweener Derby
If you are a fan of little dogs and are lucky enough to be visiting Seaside in October, an event that is not to be missed is the Halloweener Derby.  The name of this event is fairly self explanatory, just in case though, I'll explain. 
Every year around Halloween, the dachshund residents of Seaside take part in a competition to see who is the fastest, and who has the best costume of course.  
The event has taken place for over ten years now so it has cemented itself as a crucial part of the Seaside communities traditions. 
In fact, the event has become so popular with locals and tourists that many people plan their trip to coincide with this time of year so that they don't miss out on all the cuteness. 
If you love dogs as much as I do, this will sound like the ultimate way to spend Halloween and a vacation.  The event takes place at the stunning Seaside Amphitheater which provides all of the atmosphere that you need.  
During the event, the dogs compete in races to determine who is the fastest.  To qualify for the races, the dogs must be purebred dachshunds.  For the costume competition part of the derby, any breed of dog can take part. 
The costumes that the dogs wear are extremely creative and adorable.  The proceeds from the event are donated to a local Seaside non-profit animal rescue. 
Not only do you get to have a fun time surrounded by cute dogs, but you can do so in the knowledge that you are helping local animals too. 
Seagrove Beach
Another stunning beach option for your visit to Seaside is Seagrove beach.  It is one of the most popular beaches located along the 30A highway. 
One of the best things about this beach is that there are multiple access points that can be used from the 30A.  The beach is located right in the heart of the Seagrove area.  
If you are using the popular San Juan beach access and arriving by car, it is important to note that the parking availability for the access is limited so you should get there early if you want to guarantee a spot. 
One of the best ways to get to the beach is on bike.  This negates the need for parking spots.  As mentioned above, there are plenty of places to hire a bike from in Seaside. 
There are also plenty of places to secure your bike such as bike racks at most beach access points.  
Seagrove beach actually has limited amenities compared to other beaches along the 30A.  However, it maintains its title as one of the best 30A beaches thanks to the views that it offers. 
Seagrove beach is a great option for anyone who enjoys swimming in the sea.  The waters are calm and easy to navigate. 
You can also enjoy Seagrove beach at night by lighting your own beach bonfire.  Note that this is only allowed on Seagrove beach, not other beaches.  
Watch The Sunrise At Coleman Pavilion
I mentioned above, when talking about the city's landmarks, that there are 9 pavilions in Seaside that provide access to the beaches.  One of the most beautiful pavilions is Coleman pavilion. 
This pavilion is located near to the center of the town which makes it a great option for a spontaneous visit.  Not only is the pavilion itself stunning, but the views it offers are absolutely breathtaking. 
If you like to make sure that you have plenty of beautiful photo opportunities on your vacations, this is a spot that shouldn't be missed in Seaside.  
The Coleman pavilion was designed by award winning architect David Coleman. In fact, this pavilion in particular has won awards for its design and has featured in the New York Times and Architectural Record.
If you are interested in stunning nature photography it is definitely worth getting up early one morning on your trip.  Take a walk to the Coleman pavilion and take photographs as the sun rises over the ocean. 
As the light cascades over the white sand, stretching up to meet the base of the pavilion, you can get some absolutely breathtaking shots that are filled with the warm colors of day break. 
Even if you aren't into photography, the beauty of sunrises here are not to be missed.
Blue Mountain Beach
One of the greatest places on this list to visit while you are in Seaside is Blue Mountain beach.  This is one of the best hidden gems in the whole of Seaside. 
The best thing about the fact that not many people know about it is that it is likely to be quiet.  The beach is located on the Northwest side of Seaside. 
The sand is stunningly white and soft while the water is an extraordinary shade of emerald.  
In addition to the gorgeous surroundings, the beach is close to some great restaurants in the town.  This means that you won't have to go far to get a bite to eat after you have been playing in the ocean. 
The "mountain" in the name Blue Mountain comes from the amazing sand dunes that help to keep this a hidden gem.  The "blue" comes from the beautiful blue flowers that grow in said sand dunes. 
There are many trails that surround the beach which is perfect for anyone who wants to take a break from sunbathing or swimming to go and explore around the area.
Dune Allen Beach
Another top 30A beach that is close to Seaside is Dune Allen beach.  This beach is located on the west side of the stunning highway.  This is another beach that offers exceptionally safe swimming during the peak seasons. 
Manned by lifeguards, you can know that you and your family will be as safe as possible while you enjoy all the area has to offer.  Remember that if you are visiting during off-peak seasons, there will be no lifeguards and you should be more cautious.  
The public access to this beach features plenty of public parking which means that you don't have to get up super early to get a parking spot like with some other beaches. 
One of the most stunning things about this beach in particular is the sand dune lakes that form.  These lakes are great for calm water sports such as kayaking or fishing. 
There are plenty of picnic tables scattered along the length of the beach so that you can sit and enjoy the views at your leisure.  
Topsail Hill Beach
Finally, if you are looking for a more adventurous kind of vacation and are worried that Seaside might not be for you, the Topsail Hill beach could be the answer to your prayers. 
Topsail Hill beach is one of the most unique spots in the whole of Florida and certainly on this list (Also check out The Most Fun Things To Do While In Miramar Beach, Florida).  
If you are looking for a beach that offers more than sunbathing and swimming, this is the 30A beach for you.  At Topsail Hill beach you can fish, kayak, swim, or paddleboard in the Gulf of Mexico. 
If water sports aren't really your thing, there are also plenty of scenic biking trails nearby for you to explore. 
Both the water and land resources are protected in this state park beach, therefore, it is important to respect your surroundings when you visit.  The distance from the public access point to the beach is about a mile. 
However, if you have mobility issues or little ones, don't let that put you off.  There is a trolley that comes around every 20-30 minutes that can give you lift straight to the beach.  
Final Thoughts
Seaside is one of the most interesting and unique places to visit in Florida.  There are so many landmarks to see and places to explore. 
It also has incredible access to some of the best 30A beaches so you can visit a different beach on each day of your trip and never get bored.  Let me know if you check any of these places out.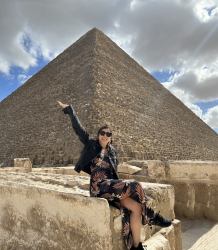 Latest posts by Claudia Torres
(see all)