What To Do At Laguna Beach? (Activities & Tips)
Laguna Beach is a popular summer destination for both locals and tourists alike, and has many activities to keep the whole family amused.
What's more, the natural beauty of the place makes it a much sought after location for those seeking a break from the hustle and bustle of day to day city life.
But where exactly is Laguna Beach, and what can you do there?
Where Is Laguna Beach?
Located in Orange County, California, Laguna Beach is a seaside resort town, and is a popular destination for California natives, and tourists alike.
Known for its mild, year-round climate, scenic coves, environmental preservation efforts, and its famous artistic community, Laguna Beach has been a popular choice for countless people – ever since its settlement in the 1870s.
How Hot Is Laguna Beach?
The average daily temperature in Laguna Beach ranges from 68 degrees fahrenheit (20 degrees celsius) to 80 degrees fahrenheit (27 degrees celsius). This makes it relatively mild and manageable, and a welcome retreat for inland Californians who want to escape the desert heat.
Things To Do In Laguna Beach
Of course, aside from the weather, the other main draw for locals and tourists is the numerous sights and activities that you can get involved with while you are there.
Heisler Park
A firm favorite for many is hiking through the beautiful Heisler Park – located just north of the main beach. This park offers spectacular views of the Laguna Beach coastline, and is a great place to grab some lunch, find a shady spot, or simply lay back and enjoy the glorious weather.
Experience Art
With a large artistic community, Laguna Beach boasts some of the best public works of art in the world. There are over 100 works of unique, public art in the town, and budding art fans can spend their time strolling around the town, taking in the sights, and experiencing what the place has to offer.
There are even specialized maps that can be obtained at the visitor's center.
Trolley Rides
Laguna Beach also has an open air trolley ride, which can be the perfect way to either get from A to B, or to take in some of the sights around town.
Whale Watching
There are also year-round whale watching cruises, meaning that animal lovers can take in some of the most beautiful natural sights that the area has to offer – all while getting up close and personal with some of the most magnificent creatures known to mankind.
Festival Of Arts
As well as numerous events throughout the year, Laguna Beach is home to a recognized, professional fine arts festival, where artists from all over California can come and showcase their talents. What's more, the festival also has food, drinks, and music to make it the perfect place to sit back, relax, and enjoy some culture.
Live Music
For those seeking a taste of the nightlife, Laguna Beach's many bars and restaurants all have live music throughout the evenings, meaning you and your friends and family can sit back, enjoy good local food and drinks, and listen to some fantastic live music in this beautiful setting.
Is there anything better?
Farmer's Markets
Laguna Beach is also home to some of the best farmer's markets in the state, and they are perfect places to pick up local produce, enjoy some good food and drink, or to just meander around and take in the sights, sounds, and smells.
Diver's Cove
Diver's Cove is the best way to take in some sea life during your trip, and there are numerous snorkeling and scuba diving spots for you to choose from.
The Great Outdoors
Despite its name, Laguna Beach isn't just a beach, there is also a vast spread of forests, trails and hills that budding hikers can enjoy.
The Wilderness park is considered one of the best around, and parking couldn't be any cheaper for those looking to head up and spend the day.
Skimboarding
Fancy yourself as a gnarly person? Why not try skimboarding? Similar to surfing, skimboarding involves riding the shore breaks along the coastline, and originated as a means for lifeguards to travel from one watchtower to another along the coast.
However, since the advent of popular surfing in the 60s and 70s, skimboarding has seen a resurgence, becoming one of the most popular pastimes in the area.
When Is The Best Time To Go?
The great thing about California, other than the countless sites to see, is the fact that the weather is nearly always ambient and warm. This is one reason why the state became such a popular spot for settlers during the 1800s/1900s, and why many famous celebrities call the state their home.
However, the best times – wherein you will experience the best weather – are between March and November. The remaining months – December to February – are when the weather breaks slightly, and the area experiences some cooler winds, and higher rainfall.
Is It Cold In Winter?
While California doesn't experience a traditional 'winter' – or at least not in line with other countries around the world – the temperatures during the off-season months does get less ambient and more unpredictable, with cooler winds, higher rates of rainfall, and slightly lower temperatures being more common.
That being said, the temperature remains above zero.
Final Thoughts
And there we have it, everything you need to know about Laguna Beach, and the things you can do if you go there.
It's true that Laguna Beach is a popular tourist destination – loved by locals and foreigners alike. And it's easy to see why. With stunning beaches, scenery, and countless fun activities to enjoy, who wouldn't want to visit?
So if you are looking for the perfect getaway for you and your loved ones, then why not pay Laguna Beach a visit? Something tells me you won't be disappointed!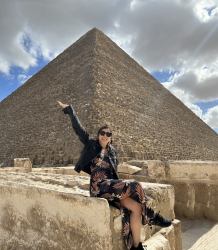 Latest posts by Claudia Torres
(see all)