Best Attractions On Secret London: God's Own Junkyard + More!
What Is Secret London?
Secret London is a great site that explores all the hidden gems that London has to offer. From the latest fascinating museum exhibition to the best-hidden bars and restaurants across the city, Secret London really does have all the secrets!
Whatever you're looking for, Secret London has all of the answers. It is a great site to stay up to date with some of the best attractions in one of the most vibrant cities in the world.
Shopping On Secret London
London is famous for its fabulous shopping opportunities (Also Check out What To Wear For London In The Spring). There are plenty of alternative places to go if you're looking for something specific.
God's Own Junkyard
God's Own Junkyard is one of London's best kept secrets. It is so exciting and you won't fail to smile when you step into Walthamstow's neon paradise.
It is the perfect place to go if you're looking for something to brighten up your home, and your day! God's Own Junkyard is a neon paradise made up of psychedelic lights and vintage signs.
When you head over to God's Own Junkyard, you might be alarmed to find yourself walking into a warehouse on the backstreets of Walthamstow, but your horizons will be lifted when you see the bright lights of this great place.
If you're not looking to buy, you can head to God's Own Junkyard for a browse and visit the café that is located amongst all of the neon greatness.
Bars And Restaurants On Secret London
There are an endless number of bars and restaurants in this captivating city. Whether you're looking for gourmet food, or some bar snacks, there is something for everyone. Let's dive into some of the hidden gems!
Big Mamma's Pleasure Palace Restaurant
If you're knowledgeable on London's Italian restaurant scene, then you will have heard of the Big Mamma restaurants dotted across the city.
There were originally three restaurants: Gloria, Circolo Popolare and Ave Mario. London isn't the only place where you'll find these fantastic restaurants. They can be found all over Europe in cities like Madrid and Berlin.
London is now welcoming Jacuzzi – a fourth member of the Big Mamma collection in London. It will open in Kensington and will be four stories tall. When this opens in January 2023, it will definitely be with a visit!
Christmas At Flat Iron Square
Flat Iron Square in Southwark is a hidden gem on a normal day, but at Christmas it really ups the antics. The Apres Ski Lodge returns every christmas and allows you to snuggle up in an armchair and enjoy some delicious mulled wine and candied pecans.
There are many different street vendors available, so you can grab some warming food while you enjoy your drinks.
Museums On Secret London
There are hundreds of amazing museums across the city. Museums are a great way to immerse yourself in the culture of London. Aside from the most popular museums, there are so many hidden gems to go and have a look around!
Jack The Ripper Museum
The Jack the Ripper museum explores the infamous killer who murdered on the streets of London in Victorian times. The museum is located in a Victorian house in Whitechapel, and it is spread across six floors.
In the museum, you will learn the history and look through the films and artifacts. You can also try and solve some of the murder mysteries in an interactive twist provided by the museum.
Sir John Sloane Museum
This museum is located in Sir John Soane's Georgian home. He was the designer of some of the greatest architectural marvels in the city, including the Bank of England.
The museum displays Sloane's collection, as well as some other great historical pieces. You will even be able to see an Egyptian tomb in the museum. It has the feel of a very cluttered home and it is a great place to go and have a look around!
Parks On Secret London
London is known for its fantastic green spaces. There are lots of different impressive parks across the city.
You can enjoy the commonly known parks such as Hyde Park, Regents Park, and Kensington Gardens (the list goes on), but there are also lots of great hidden gems.
Primrose Hill
If you're looking for some great green space that provides panoramic views of London, Primrose Hill is the place to go! You do have to climb up quite a steep hill to get to the viewpoint, but you definitely won't be disappointed!
It is a favorite spot for panoramic views of the city, and you can enjoy a walk through Regent's park after admiring the view.
From this viewpoint, you will be able to see everything from the London Eye across to Canary Wharf. Primrose Hill has been a public space since 1842 and it is a Grade-II listed park.
It is a great place to take your picnic and have a rest away from the fast pace of the city. The park is very popular and can get busy, but there is room for everyone!
The Sky Garden
Located at the top of the Walkie Talkie building, the Sky Garden viewing gallery is on the 43rd floor. It contains lots of foliage and you can enjoy an amazing view over London from the floor to ceiling glass window.
There is an open air terrace which provides views across the Thames, too.
This garden only opened in 2015, and since then it has been providing an open and vibrant place for people to visit that allows them to escape the fast pace of the city.
This garden will help you to see London from an entirely different perspective and it will allow you to have some relaxation time.
Final Thoughts
London is an enchanting city that is filled with amazing hidden gems. Secret London is a great place to find some of the most interesting places in the city. You won't be disappointed by what you find on this site!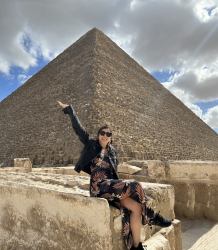 Latest posts by Claudia Torres
(see all)