10 Amazing Things To See In Philadelphia
Philadelphia – nicknamed The City of Brotherly Love – is famous for being the home of the Declaration of Independence as well as the U.S. Constitution.
Philadelphia has a strong connection to the beginnings of the U.S. as we know it, and is home to many landmarks and national historical parks.
But Philadelphia is a thoroughly modern and vibrant city too, filled with intriguing museums, dazzlingly beautiful parks, and buzzing marketplaces. Wherever you go in Philly, you're sure to find adventure!
With so much to do in Philly, how do you know where to start? Well, I've compiled a list of 10 amazing things to see in Philly so you can have the trip of a lifetime. Let's get started!
Liberty Bell
The Liberty Bell is probably one of the first landmarks you think of when you hear 'Philadelphia.'
The Liberty Bell originally embellished the Pennsylvania State House, which is today called Independence Hall. It not only symbolizes Philadelphia and its citizens, but freedom itself.
Visit this icon of history and check out the bell's famous inscription which tells you all about its history. While the bell is silent when struck, it nonetheless delivers a powerful message that resonates around the world.
Schuylkill River Park
Running alongside the famous Schuylkill River, the Schuylkill River Park provides a vast playground for vacationing families, pools, paved paths, sports areas and a dog run.
If you love the great outdoors and want to get some fresh, cool air in the big city then Schuylkill River Park is the place to go!
The Schuylkill River Park is also the home of the River Trail, which is a 30-mile trail beloved by cyclists, families, walkers and runners, and attracts 20,000 visitors every year. This park provides everyone with a wide, open space to enjoy nature.
Whether you want a relaxing stroll or a walk, or a more intense workout, this park gives you a safe and dog-friendly area to do so in the heart of Philadelphia.
Philadelphia City Hall
Philadelphia City Hall acts as the seat of the municipal government for Philly and has residential chambers that house the main constituents of the governing body.
It is also an architectural triumph, and at 14.5 acres is the largest municipal building in the country. It is also topped with a famous statue of William Penn, a 548-foot tower that is one of the tallest masonry structures on the globe.
Philadelphia City Hall is a pretty record-breaking building!
You can take a tour of City Hall and enjoy the public rooms that are some of the most opulent rooms in the city, such as the City Council Chamber, Conversation Hall, the Mayor's Reception Room, and the Supreme Court Room.
Independence Hall
With a fascinating history that dates all the way back to 1776, Independence Hall tells the tale of the 56 brave men who congregated at the Pennsylvania State House and stood up to King George III, and whose actions helped create the U.S. Constitution.
Independence Hall is one of Philadelphia's most popular attractions, and is the birthplace of the U.S. Constitution and the Declaration of Independence and is currently the crowning jewel of the Independence National History Park.
Take a fascinating walk down memory lane and learn more about the U.S. Constitution, the founding fathers, and how each state worked together to create the building blocks for our country as we know it today.
LOVE Park
While it's officially named John F. Kennedy Plaza, LOVE Park is a public park located right in the center of Philadelphia.
It is a wide, open space where runners, tourists, and performers gather, creating one fun space! It has plenty of seating, walking trails, and green areas for you to enjoy.
Whether you're looking for somewhere relaxing to hang out or enjoy a sunny day, LOVE Park is a comfortable, beloved spot in Philadelphia that draws in locals and tourists alike from far and wide.
Reading Terminal Market
Reading Terminal Market is a public market in Center City that provides one of the best culinary experiences in the city. It hosts over 80 diverse food bazaars, merchants, and stands, and is a paradise for foodies!
Explore the wide range of sit-down establishments that are spread out in the enclosed yet expansive and vibrant space, and buy extremely fresh produce and ingredients from vendors.
You can enjoy a wide variety of cuisine at Reading Terminal Market, and many eateries in the market are run by local people who have had their establishments in their families for generations.
From heavenly, savory soul food to delicious Middle Eastern and Asian cuisine and authentic Philly cheesesteaks, every stand in Reading Terminal Market has something to offer for everyone.
Benjamin Franklin Parkway
Known by locals as Ben Franklin Parkway, Benjamin Franklin Parkway is a beautiful boulevard that takes you through the cultural center of Philadelphia.
The scenic parkway lined with trees and the culturally vibrant Benjamin Franklin Parkway is often likened to the famous Champ Elysées in Paris, and stretches from Logan Circle all the way to the Barnes Foundation and Rodin Museums which are museums revered around the world.
This historical boulevard makes for an exciting drive that allows you to take in all the hotspots of Philadelphia and go on an excellent cultural trip. Taking a trip down Benjamin Franklin Parkway gives you an unforgettable Philadelphia experience!
Citizens Bank Park
Located in South Philadelphia Sports Complex, Citizens Bank Park is a famous Philadelphia baseball stadium, and has been home to the Philadelphia Phillies since April 2004.
It is a huge 43,500-seat stadium covered in beautiful, natural grass and gives you a breathtaking view of the Philly skyline.
For an exhilarating day of sport, book yourself a seat at the Citizens Bank Park and enjoy nearby concession stands serving delicious snacks. Cheer on and soak in the competitive, passionate atmosphere of Philadelphia sports!
Philadelphia Zoo
On the west bank of the Schuylkill River you'll find the Philadelphia zoo, which has the honor of being recognized as the first official zoo in the U.S.
The zoo is also known for being the most populous zoo and best built zoo in the whole country, and is comfortably located in a beautiful 42-acre Victorian garden with elegant shrubbery and tree-lined walks.
If you're visiting Philadelphia with kids, the Philadelphia Zoo is a must-see attraction.
You're guaranteed to have an exciting day at the zoo that is home to almost 1,300 animals, historical architecture, and stunning botanical collections that are home to more than 500 plant species.
Another highlight when you visit the zoo is their groundbreaking research that you learn more about when you take a tour of the exhibits.
Philadelphia's Magic Gardens
Philadelphia's Magic Gardens is a gallery space and a non-profit organization that aims to foster an environment for folk art and is located on South Street.
The Magic Gardens shine with moving creativity, and is an eclectic urban space that is made out of bicycle spokes, bottles, cement, ceramic shards and other knick-knacks.
If you're looking for fun things to do in Philly without breaking the bank, then the Magic Gardens are definitely worth a visit.
This magical man-made garden utilizing artistic pieces and mosaics provides endless photo opportunities that are sure to be beautiful and unique, and to make it even better you're supporting local, underground artists. Win-win!
Other Essential Things To Do In Philadelphia
Eat An Authentic Philly Cheesesteak
The Philly cheesesteak is probably the most iconic foodstuff to come out of Philadelphia. Forget about your diet so you can indulge in this Philadelphia staple!
What is an authentic Philly Cheese you ask? Well, it's a hoagie roll that is filled with steak that is either chopped or sliced thinly, and your choice of fried onions and cheese.
Philadelphia locals can order their preferred cheesesteak with two simple words. They specify their cheese selection (American, provolone, or Whiz), and 'wit' or 'without' onions.
Visit Philadelphia's Cool Waterfront
What was once home to under-used public spaces and piers in need of development, the Delaware River waterfront has become one of the most happening places in Philadelphia!
This is all thanks to the opening of a few exciting parks and attractions, such as Cherry Street Pier and Race Street Pier as well as seasonal attractions like Blue Cross RiverRink and Spruce Street Harbor Park, and events all year round that draw in huge crowds.
Plus, from the Delaware River waterfront you can be treated to stunning views of the Benjamin Franklin Bridge, which joins Philadelphia to New Jersey.
Final Thoughts
Philadelphia is a city that is rich with heritage, from the Liberty Bell to Independence Hall, as well as a city dotted with beautiful green spaces, family-friendly attractions such as the Philadelphia zoo, and vibrant modern attractions like the Delaware River waterfront and the Magic Gardens.
I hope this article has given you a great itinerary for your next trip to the City of Brotherly Love!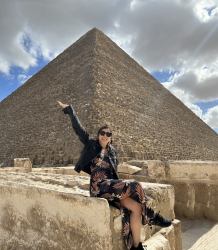 Latest posts by Claudia Torres
(see all)