Things To Learn About Costa Rica [South America's Most Beautiful Country]
Traveling is one of the best and most beneficial things you can do in your life.
To see how other cultures live and learn about other nation's cultures is extremely fulfilling, but perhaps even better than this is viewing the landscape of these nations.
The world is a beautiful place, and the most beautiful country in the South American part of the world is Costa Rica.
With its rich landscapes, gorgeous landmarks and interesting cultures – you'll absolutely love it there.
But before you head to Costa Rica, what should you know about the country?
Well our guide is going to tell you. We'll look at all the most important pieces of information you need to know.
So read on and learn lots more!
Money
You will find in most countries that money is critical and the most important thing that governs the land.
Costa Rica's currency is named after the famous explorer Christopher Columbus – the Colon.
Now, as a US Citizen, you may be wondering if you can use your US dollars while you're there. The answer is yes.
Unlike Ecuador though where the US Dollar is actually their official currency, some places in Costa Rica will accept US Dollars.
In fact, a large number of places like restaurants, cafes and travel agents will work out the exchange rate for you and charge you accordingly for whatever service you are paying for – and the travel agent may even be able to exchange your currency anyway.
However, you should be aware that not everywhere will allow for this and even if they do, you should know what the exchange rate is so you don't get ripped off or suffer the drawback of a mistake.
Travelers from the UK or Europe may struggle to find places that accept the British Pound or Euro though – so it may be worth exchanging your currency before you arrive, even if it is to the US Dollar.
Oh and don't worry about running out of cash – there's plenty of ATMs around!
Demographic
Costa Rica is part of Central America and is situated between Nicaragua and Panama.
To its west, you will find the shores of the Pacific Ocean, and to the east you will find the Caribbean sea!
Costa Rica covers a huge land area of 51,000 square kilometers and a result, it has a large population of about 5 million people.
The majority of these people live in the nation's Capital of San Jose.
Before you head to Costa Rica, you might want to brush up on your Spanish, because that's their official language!
However, you'll find that a huge number of people will be able to speak English too.
The country avoids international conflict and this is likely why they've had no army since 1949.
In fact, the country is very friendly and even eco friendly, offering more than 5% to the world's biodiversity.
Wildlife
Due to its landscape, Costa Rica is home to a huge variety of exotic wildlife which live in the forests, jungles and national parks.
You can find animals like howling monkeys, macaws, dart frogs, snakes, spiders, turtles, sloths, wild cats, whales and lots of others!
As a result of all of these different types of wildlife, you will have plenty of opportunities to take some amazing and unique photographs, but you also need to be aware of the dangers.
Some of these animals are incredibly dangerous, so you will need to ensure that you're consulting with a professional if you are planning to tour certain areas that could be home to some of these deadly animals!
Tap Water
One of the biggest questions that travelers may have is how safe is the tap water? Can I just pour it out and drink it?
Well, the general rule of thumb is yes the tap water is safe to drink in Costa Rica because it is very clean and the country is always very aware of its sanitation.
However, this isn't the case everywhere in the country.
Much like many other countries, while the majority of the nation will be safe to drink its tap water, some areas have difficult or different water systems and may not be as pure as other areas.
As a result, it's probably best that you're very careful and stick to bottled water just as a precaution.
Whatever the case, you'll still be safe to bathe in the tap water.
Crime
You are generally safe in Costa Rica as a tourist as long as you stick to the travel agency's guidance and always listen to tour guides.
However, much like any other country in the world – crime does exist.
The majority of crimes occur in San Jose, which is probably unsurprising based on its population.
Usually, crimes against tourists are nonviolent but you should be wary all the same.
The advice is to avoid taking valuables with you while you are out such as jewelry (which you won't need to wear anyway).
You should also pay attention to where your bags are at all times, even on the beach (You might also want to check out What To Do At Laguna Beach?).
Bizarrely, this isn't just for protection against thieves – because monkeys have been known to come and steal tourist's bags!
In reality, to remain safe, you should always try to stick to the tourists specific areas which your travel agency and tour guides will explain to you.
When To Head To Costa Rica
The best time of year to go to this beautiful country is between December and April when the weather is best and there's a reduced rainfall. You will also find lots of tourists here at this time!
The Bottom Line

Costa Rica has so much to offer and it's one of the most amazing countries in the world.
Why not head there and discover it for yourself!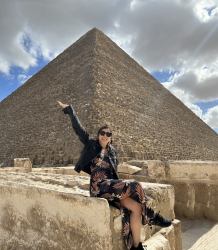 Latest posts by Claudia Torres
(see all)