Pros And Cons Of Delta Airlines
Delta Airlines has been operating since 1925 and is now one of the leading airlines in the world.
From humble beginnings as the first aerial crop-dusting company in the world, Delta now delivers passengers all over the world.
They are mostly known for the quality of their service and quality of passenger experience all the way from booking to landing. 
With so many options available for international and domestic flights, it can be difficult to choose the right airline that suits your needs and your budget.
This is why I have put together a list of pros and cons of Delta Airlines based on years of traveling experience. 
By the end, you should be able to make the right decision on whether Delta is the right airline for you to fly with.
Pros Of Delta Airlines 
Let's get started with the positives, of which there are many.
Fly Anywhere In The World 
Delta Airlines travels to over 1,000 destinations across 6 continents worldwide.
It's best to begin with this positive of flying with Delta as you can reach almost anywhere in the world from anywhere. 
Whether you are going on a family vacation or traveling solo to some far-out destinations, you can probably find a flight with Delta, direct or otherwise.
For traveling nomads, this is a real helping hand if you want to reach all 4 corners of the earth. 
Onboard Amenities 
As an airline on the more luxury side of the spectrum, you can expect the onboard amenities to be top notch.
Most of their aircrafts have a built-in TV screen that lets you watch all the latest films and TV shows.
This is ideal if you are on a long-haul flight and need to pass the time. 
Delta's flights also have Wi-Fi available, which is a pretty new introduction to the flying experience.
It used to be that you turn on airplane mode on your phone before taking off and you won't be able to send or receive anything until after you land. 
This also means that you can stream your own films during the flight if you can't find anything to watch on the in-flight entertainment systems.
If you are flying on business or need to use your airborne time for work, you can do this too during the flight. 
Rewarding Frequent Fliers 
Delta does a great job of giving back to their customers who fly frequently with them.
Their Delta SkyMiles rewards system lets you collect small perks that go a long way during your flying experience. 
Their Medallion statuses also give you extra rewards for repeat bookings.
Separated into silver, gold, platinum and diamond statuses, your Medallion status can be the difference between paying for your checked bags or boarding with them for free. 
With Delta's reward schemes, the benefits include things such as upgrading your tickets on the day of your flight and getting priority boarding.
This can be especially useful if you are targeting the prime real estate of overhead baggage space. 
Great Food 
Along with Delta's excellent service, the in-flight food options are also a major plus point.
Depending on the length of your flight and the type of ticket you have purchased, your meals can be complimentary. 
On a first class ticket, you will receive breakfast, lunch or dinner on flights that cover more than 900 miles.
Even on main cabin tickets, you are welcome to snacks and drinks on flights over 250 miles.
This means you can relax in the airport before your flight and avoid running around the terminal gathering up snacks and drinks for the long-haul flight ahead.
In line with most of Delta's services, the food they offer onboard is good quality compared to what you might have come to expect from other airlines too.
Variety Of Pricing Plans 
Even though Delta is regarded as one of the higher end airline companies, they still offer a selection of tickets that vary in price.
You can travel on a tighter budget and still enjoy everything that Delta has to offer.
On the other hand, if you want to travel in luxury, there are several upgrade packages in between their most basic tickets and first class. 
Basic Economy 
The cheapest option you can go for is basic economy, which is perfect for anyone who needs to minimize their travel cost.
Your seat is automatically assigned to you though, which means you could be separated from your family or friends during the flight if you go with basic economy.
You also can't upgrade your ticket from basic economy, so you're sort of stuck with what you paid for once you have booked.
Main Cabin 
The first upgrade option is the main cabin, which is Delta's standard economy class.
This is where you can begin to upgrade your ticket if you wish on the day and experience some of Delta's more luxury ticket options.
If you do choose to upgrade though, you will still need to pay the balance of fees for the improved ticket. 
Comfort+
With comfort+, you are still seated in economy except you will enjoy some extra legroom.
Whilst this is still on the lower end of Delta's upgrade options, taller or larger passengers might want to favor this option.
You also get a dedicated space for your overhead baggage with comfort+, which will save on the panic of securing a close-by space for your bag once you board the flight. 
Premium Select 
Only available on certain flights, premium select gives you access to Delta's SkyPriority schemes.
This can include priority check-in, boarding and seating preferences. Therefore, you get to skip the queues.
Even security checks can be fast-tracked at some airports as you are given your own security lines for peak travel times.
With premium select, you are also entitled to check in 2 baggage items for free. 
Delta One
Moving out of economy class and into Delta's upper-class cabin, you have access to SkyPriority in addition to the Delta Sky Club Lounges.
This comes with complimentary drinks, snacks and light food with free Wi-Fi available.
The extra baggage allowance and freedom to upgrade your tickets on the day of the flight is worth the bump in cost. 
First Class 
First class can only be booked for short and domestic flights, but you can still make use of Delta's final upgrade option if you are using the journey to connect to an international flight.
You have access to all of the above benefits including SkyPriority, Delta Sky Club Lounges and freedom to change or upgrade your flight.
You are also allowed 2 items of checked baggage with first class. 
Ultimately, Delta might not be the cheapest airline to fly with if you travel everywhere by first class, but the amount of options available makes their services widely accessible to all budgets.
You are free to choose maximum upgrades in first class or take your allocated seat with a paid checked bag in basic economy class – the choice is yours. 
Customer Service 
Airlines can often be defined by their standards of customer service from their phone operators to the crew of flight attendants on your journey.
Delta is regarded as one of the best when it comes to high quality customer service. 
In 2021, they were voted the top airline for customer satisfaction in North America by CNBC, as well as racking up a long list of awards in recent years.
In the current climate, people are having to make changes to their travel arrangements more than ever.
If you need to change a flight on short notice, having premium customer service on the other end of the line can make your travel experience way less stressful.
Delta are even looking to hire more specialists to reduce their waiting times over the phone at the moment. 
The in-flight crew are also extremely attentive, which makes the actual flying experience so much more pleasant.
With complimentary drinks and snacks being brought to your seat and instant help with your TV system should you need it,  you can't go wrong with Delta's customer service.
3rd Party Booking 
Some competitors such as Southwest Airlines force you to book directly through them, meaning you are bound by whatever prices they decide to put on their flights.
Delta Airlines allows you to book through 3rd party websites, which leaves the door open for extra savings. 
3rd party sites such as Expedia can help you to save money on your flight, especially if you book a package deal that includes your hotels and transfers.
The only thing to watch out for when booking through a 3rd party site is if you find yourself needing to cancel or change your flight.
Each site has its own policies for refunds and rebooking, so make sure you read the smallprint before moving away from booking directly with Delta. 
Cons Of Delta Airlines 
Whilst Delta has a long list of positives, there are a few drawbacks with the airline.
It is worth weighing up all the pros and cons before making your decision, so let's take a look at some of Delta's cons. 
Charges For Baggage 
Some ticket upgrades come with free baggage allowance and allocated overhead space, but not all of Delta's tickets come with this option.
If you book a basic or main cabin ticket, none of your baggage is included in the price of your ticket.
Therefore, where you save money on your ticket, you might end up spending that saved cash on checking in your luggage. 
In economy, you can expect to pay $30 for a single checked bag and up to $200 extra for third and fourth bags if you are traveling heavy.
This can add on some extra costs to the price of your flight that you might not have factored in when booking your initially cheap ticket. 
Cost 
Delta are known for their high standard of service and flexibility, especially with their upgraded tickets.
However, this does come at a premium. If you expect the best, you've got to pay for it unfortunately. 
This is perhaps Delta's main area that receives criticism as they are not the most affordable airline to fly with.
In the unfortunate scenario where something does go wrong with your flight, whether it be a delay or a cancellation, you will feel more aggrieved by it due to the premium that you pay. 
However, as we discussed in the pros, Delta does offer quite a variety of pricing options that can massively lower the cost of travel.
It's more about choosing the price that you're comfortable with and still keeping in mind that things can go wrong despite the cost. 
Leg Room 
One of the biggest criticisms of all airlines is the leg room that you get provided with.
This is something that all airlines get thrown at them, ranging from the extreme budget end to the divine luxury. 
A standard seat with Delta tends to give you about 30 inches of leg room, which isn't too much of an inconvenience if you can fit into their cheaper seats.
Moving through the upgrades, you then get access to greater leg room and chair width. 
Upgrading to comfort+ leaves you with a 34 inch seat pitch, which is a 4 inch improvement.
However, your seat width will remain the same between 16 and 17.5 inches, leaving you without many added benefits compared to standard economy tickets. 
Upgrading to the higher ticket packages such as Delta One gives you a 180-degree flatbed, which removes any worries about leg room.
Your seat width also extends to just over 20 inches for added comfort. 
Whilst the standard economy tickets don't leave much room to stretch your legs in, the upgraded tickets provide you with way more room than most airlines.
The only thing you need to consider is whether it's worth the extra cost. If you want the best, you do have to pay for it again. 
Conclusion
Do the positives outweigh the negatives for Delta Airlines? I would have to conclude that they do.
It comes down to deciding what your priorities are when traveling.
Do you want to travel in complete comfort or are you conscious of cost? 
Whilst Delta is definitely not the cheapest option to go with, they can't be denied as one of the best.
There's good reasoning behind why so many people loyally book with them despite the extra premium.
For the trade-off in cost, you get high quality service all the way through your journey from booking to landing on the tarmac. 
The amount of choice you have also can't be overlooked.
No matter the budget that you're booking with, you can stretch to the full Delta One experience or go with a standard economy ticket if you're not picky about where you're sitting.
Whether it's about the destination or the journey for you, Delta Airlines has enough variety for anyone to travel. 
I hope this list of pros and cons has been helpful for deciding whether Delta Airlines is the right choice for you.
Wherever you are traveling in the world, I wish you a safe journey to your destination and back!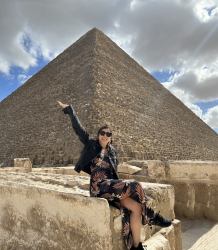 Latest posts by Claudia Torres
(see all)