10 Best Restaurants In Seattle (For Passionate Foodies)
Seattle is one of the best cities for foodies to indulge in their favorite cuisines. The options are endless when it comes to restaurants in this vibrant location, especially when it comes to seafood.
Whether it is fresh seafood brought in from both Washington State's bays, or produce brought in from the farms around the city, you can expect to experience some amazing dining experiences around this city.
Aside from the above, many of these wonderful restaurants bring together exotic, global cuisines, showcasing their true talent.
So, whether you're interested in trying new foods, or sticking to what you know, this article is going to provide you with a list of some of the best restaurants in Seattle.
This restaurant prides itself on providing its customers with a dining experience they'll never forget.
Here, you can experience a nine-course menu that plays out for around four or five hours – perfect for those who love to eat!
Serving fresh, local produce is their specialty, and this is evident in their regional focus and seasonally themed menu. You can expect to experience comforting root vegetables in the winter, and Copper River salmon in the spring!
Along with each dining session, you'll also be introduced to a delicious wine pairing, along with an informative dialogue from the chef about the specific details of what is on your plate.
Therefore, if you're passionate about food, where it comes from, and what pairs well with it, this is the place for you! However, this place does get booked up months in advance, so you'll need to call ahead of time.
Serving impeccably fresh seafood, and with a seafront view, Elliott's Oyster house is the place to be, with over 25 varieties of oysters to choose from!
They also offer an Oyster Happy Hour Monday to Friday, where you can educate yourself on all the oysters they have to offer!
However, don't be deterred if you're not a fan of oysters (they are an acquired taste after all!) as this establishment offers other delicious and fresh seafood such as Salmon and Dungeness crab which are two of their house specialties.
This wonderful establishment is located on Pier 56, which is the perfect setting to breathe in some fresh ocean air and enjoy the beautiful view.
The Space Needle is the one attraction you must visit when it comes to Seattle.
Located five hundred feet into the sky, Skycity provides you with delicious food, as well as a 360-degree panoramic view of this fabulous city. 
The restaurant rotates as you dine, providing you with exquisite views you can't access anywhere else!
They also source Northwest-grown beef, fresh seafood from the Pacific Northwest, and delicious produce from local farmers. 
All these aspects combined make for some of the most creative cuisines you can experience in the whole of Seattle.
An added bonus is their award-winning wine list, featuring some locally sourced wines from Washington State.
Ono poke offers some of the highest-quality poke in the entire city of Seattle.
The owners of this restaurant are passionate about their food, and love to let the flavors of the fish shine through, so the flavorings of certain dishes such as the ahi and the tuna are lighter than other restaurants. 
However, you can also experience some more creative flavors, such as their spicy salmon.
You can be assured that all the fish they provide is fresh, as their menu changes daily.
Born and raised in Kahalu'u, O'ahu, the owner has been catching fish and creating poke bowls from a very young age.
Therefore, you are guaranteed to experience some of the best poke you've ever tried, right here in this restaurant. 
This steak house prides itself on providing its customers with premium meats that are produced responsibly without any added antibiotics or hormones.
It is known as one of the best in the city, and each of its steaks is perfectly buttered and grilled. They also serve game meats such as wild boar and elk, as well as offer an extensive drinks list at their bar.
Their interior is very inviting and boasts large, bright windows, high ceilings, and cozy decor.
This vegetarian restaurant is such a gem it will even attract the fussiest of carnivores. It's been a staple in Seattle for over 30 years, so you can be assured that you'll experience tremendous service here.
You can enjoy a delicious brunch in the sunny atrium that features large, bright windows while listening to their impressive indoor waterfall.
Their coffee is delicious, and you get to choose from a variety of options, such as their citrus pancakes, buttermilk pancakes, and Belgian waffles.
They also have a wonderful lunch and dinner menu, where you can experience some delicious superfood salads, grain bowls, risotto, and tacos!
Offering some of the most authentic Asian street food in Seattle, Wild Ginger has been a very popular spot in the city for years.
Some of their specialties include dishes from India, Thailand, Malaysia, China, and Vietnam.
The skewers they cook up are a favorite on their menu, as they offer everything from chicken, prawns, lamb, and scallops served on a bed of sticky rice.
You can also enjoy some refreshing Siam lettuce cups wrapped over some grilled fish with roasted peanuts.
Their location is superb, with an amazing live-music club located downstairs from the restaurant called Triple Door. This is the perfect place to start a fun night out in!
This establishment is definitely a jack of all trades! By day, it operates as a successful butcher, serving all kinds of meats such as steaks, homemade sausages, pate, chicken, pork, and duck products.
At night, the appreciation for meat continues with the operation of the restaurant The Peasant.
Here they serve dishes such as koji-aged beef and duck confit alongside some Yorkshire pudding waffles (we can see the London influence here from the owner's roots). 
If that isn't impressive enough, there's also a casual wine bar that operates on Tuesdays and Wednesdays, serving delicious wines alongside some tiny plates.
This intimate restaurant only seats 20 people, providing you with a dinner party experience you won't forget.
The restaurant works exclusively with local farmers, fishermen, ranchers, and artisans from Seattle in order to stock the freshest local produce possible.
Therefore, whether you order their premium steak or a selection of fresh fish, you're guaranteed to have a delicious experience.
They have a daily changing menu one of them is the chef's menu, which is carefully crafted and pairs fresh food with the perfect pairing of wine or beer.
This bakery has become a favorite spot for locals to stop and have a coffee and croissant.
The owners, Healthier and William Leaman both have over 20 years of experience in this kind of industry, and this really shines through in all of their unique creations. 
Despite all of their delicious treats, their specialty has to be their twice-baked croissant that's available in several different flavors.
You also have the option of all kinds of macaroons, fruit tarts, pastries, and even some of their own crafted chocolates! 
This is also a great lunch spot, as they offer a variety of delicious French sandwiches, and their bakery is directly opposite a gorgeous park, the perfect place to enjoy a warm, sunny day!
Final Thoughts
To conclude, there are endless options when it comes to great places to eat in Seattle. The city is bursting with fantastic restaurants, many who source their produce locally.
Whether you're after a simple but delicious meal, or are up for expanding your palate and trying some global cuisines, there is an option for everyone in Seattle.
This article has provided you with 10 of the best restaurants you can dine at in Seattle.
Whether it's Seattle's seafood you want to try, or something a little more exotic, you definitely won't be disappointed with any of the options on this list!
Frequently Asked Questions
What Food Is The Most Famous In Seattle? 
Seattle is a city that's known for its seafood. It takes this food very seriously, with Salmon as part of the area's culinary identity!
Shellfish is also a large staple, with many different spots for tasting oysters available!
Why Do Restaurants Change Their Menu Daily/Weekly? 
Oftentimes, you may notice that a restaurant changes their menu weekly or monthly. This is actually a good sign, as it means that everything they serve is sourced locally and isn't heavily processed.
This also means that they are likely to serve food that is in season. This means that the food will taste better, and have much more nutritional value.
It also means that you get to try a variety of different foods, rather than always being offered the same thing every time.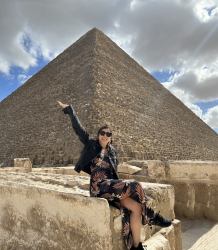 Latest posts by Claudia Torres
(see all)