The Most Instagrammable Street Art In Dublin
Street art has become increasingly popular over the last few years.
Artists are getting commissioned more and more to make beautiful murals on the sides of buildings and cities all over the world are becoming more beautiful and colorful. 
When you think of street art, you probably think of cities like New York, or Bristol, but it might surprise you to know that Dublin also has a pretty high spot on that list too!
There are so many fantastic pieces of art dotted all over the city of Dublin. Lots of art organizations and the Dublin City Council have come together with artists to bring more life to the city.
If you want to know about the best street art in Dublin, then you've definitely come to the right place!
The Most Instagrammable Street Art In Dublin
From music-inspired pieces all the way to surreal art, there is absolutely no shortage of Instagrammable street art in Dublin.
If you're planning a trip to the city any time soon, check out all of the street art on this list and go and take a look for yourself! While they look great in pictures, nothing beats seeing all this art in the flesh! 
"Pass Freely" By Asbestos 
Kicking off this list, we have the incredible piece "Pass Freely" which was created by the artist Asbestos.
This piece has a lot of depth to it because it's incredibly striking, but the meaning behind it is incredibly important. 
When you first see "Pass Freely" you will see a human made completely out of burnt matches looking up. You might have to get up a bit closer to see the burnt matches, and once you do you will be left speechless.
The burnt matches have a serious meaning as well. There are 4,989 burnt matches in this piece and each one represents each person in Ireland who died from COVID-19.
This piece is incredibly important for history and a beautiful tribute to those who lost their lives in Ireland during this time. 
"Marvin Gaye" By Kevin Bohan
If you love the color blue and you love Marvin Gaye, you're going to love this piece! It takes up an entire wall and the words "inner city blues makes me wanna holler" are printed in large letters on it.
This piece is based on Marvin Gaye's album What's Going On which talks about lots of different themes including war, poverty, drug abuse, high taxes, the economy, crime, and the environment.
Artist Kevin Bohan created this piece to remind everyone of all of these issues and how they are still relevant today. This is an incredibly eye-catching and striking piece that simply cannot be ignored.
"The Year-Ahead" By Emmalene Blake
You can find this beautiful piece of street art in Tallaght Village. The piece shows a woman holding three tarot cards. The cards shown are The Hermit, Strength, and The Sun.
Each of these cards is considered a positive card in tarot, and Emmalene Blake was inspired to create this piece to give others hope.
She created this piece at the onset of the COVID-19 pandemic, and she wanted to inspire people to persevere through the difficult time. 
This is an incredibly uplifting piece and it is also really beautiful. The use of color makes it impossible to walk past without admiring it.
"U Are Alive" By Maser
Another striking piece, "U Are Alive" was created by street artist Maser, who is considered to be one of the most popular artists in all of Ireland.
Maser has painted this particular message in a few different variations, but it has evolved into something more as time has gone on. Maser usually adds the extra message "U Are Not Less" underneath, which is a newer addition.
Maser created this piece to empower the homeless community and everyone who knows his work knows how deep the message is.
It's always incredibly colorful and eyecatching, and if you see this piece during your travels, you'll definitly want a closer look. 
"Stormzy Mural" By Subset
You can find this mural in Smithfield and it was created in 2017 ahead of rapper Stormzy's 2017 European Tour.
Subset is an art collective and they created this mural in honor of Stormzy who is considered one of the biggest grime artists in history. 
This piece remains one of the most popular and beloved pieces of street art in all of Dublin and it gained so much attention that Stormzy himself found out about it and tweeted about it.
"Red Squirrel" By Artur Bordalo
The Red Squirrel piece can be found on the side wall of the Workshop Gastro Pub on Tara Street and it was created by street artist Artur Bordalo.
This is a fantastic piece of art that was made entirely out of scrap metal and random bits of garbage and it aims to highlight the endangered speices of the red squirrel. It also highlightas the dangers of enviromental waste.
You wont find a piece of street art like this anywhere else in the world, and it's definitly worth visiting if you find yourself in Dublin. 
"Sink Or Swim" By Fintan McGee & Maser
Maser is such a prolific artist, so he's making another apperance on this list, this time in collaboration with Australian artist Fintan McGee.
This mezmerizing piece can be found across the side of the Bernard Shaw pub, which is found on Richmond Street South. 
It depicts a woman with the bottom of her face in water with the word "SWIM" painted behind her in psychedelic letters.
It's an incredibly eye catching piece that is one of the most Instagrammable pieces of street art in all of Dublin. 
Conclusion
Dublin is absolutely jam packed with lots of incredible street art that you absolutely must check out if you find yourself in the city.
The pieces listed here are some of the best and most instagrammable in the whole city, but if you spend a day in Dublin, there are so many more for you to find!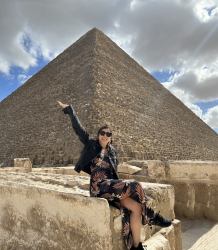 Latest posts by Claudia Torres
(see all)