10 Most Instagramable Places In Paris
Planning a romantic staycation in the city of love with your partner? Or even a fun sightseeing adventure trip with your friends?
It would be wrong to leave one of the most beautiful cities in the world without snapping some quality Instagram pictures to share with your followers.
Here is a guide to the ten most instagramable spots in Paris. Make sure you pay them a visit on your trip because you wouldn't want to miss out on snapping some incredible shots you will cherish forever.
1. Cafe Marly
A Parisian-style brasserie located under the arcades of the Louvre museum, one of Paris' best-kept instagramable secrets.
A stunning cafe with the most gorgeous view of the iconic Louvre. The perfect spot to snap a classic Parisian pose.
Whilst the cafe is on the more posh side, it is safer to make a reservation to avoid disappointment, and to make sure you're dressed up.
Although you'll be wanting to capture an elegant photo, so I'm sure there will be no complaints there.
Cafe Marly offers French music, dating back to the decade of the 70s. Whilst their menu offers French cuisine, including grilled meat and fish, as well as Pavlova and red fruits in an extraordinary setting.
Although it is on the more pricey side, you are paying for the experience and gorgeous view, so it is totally worth it.
So put on your best outfit, order some brunch, relax on the terrace and pose in front of the angelic pyramid – the Louvre.
2. Musee D'Orsay
Musee d'Orsay is home to the largest number of famous paintings in the world, from famous painters such as Monet, Picasso, and Van Gogh. Located on the Left Bank of the Seine.
The instagramable spot is inside the museum by the clock tower, which is located on the 5th floor. However, remember to enjoy the rest of the museum as well!
The museum is free to visit on the first Sunday of every month. Admission is usually 16 euros so it is worth taking advantage of this offer.
Musee d'Orsay is housed in a former railway station. On the terrace, it offers an underrated view of Paris that not many people know about. You can even spot the Eiffel Tower!
To add to that, it has an overwhelmingly beautiful entrance. This spot is a lovely day out, I promise you won't leave without a handful of gorgeous photos to post on your Instagram.
3. 228 Rue De L'Universite
A hidden gem that not many tourists know about, offering a gorgeous view of the Eiffel Tower. Located in Paris's 7th arrondissement, along a charming cobblestone street.
The street is filled with historical buildings, featuring classic Parisian architecture, which adds a great addition to your Eiffel Tower snapshots.
This is a unique spot to capture some wonderful candid photos, you could even consider coming down on an evening to capture the tower whilst it sparkles.
4. Arc De Triomphe
The mesmerizing arc makes for a stunning backdrop to your Instagram shot. The famous Arc De Triomphe honors those who died for France in the French revolution and Napoleonic wars.
The names of generals are inscribed on its inner and outer surfaces. Beware of the cars whilst snapping your shot!
Not everyone is aware that you are able to climb to the top of the Arc. It is open every day from 10 am-10 pm, but it is better to book your tickets online to avoid any queues.
Not only is it half the price of the Eiffel Tower, but you get a way better view looking over the Champs-Elysees and of course seeing the Eiffel Tower itself.
In fact, it is known to be the best city view in Paris. To get to the top you climb up a giant spiral staircase, then you walk out onto the open terrace and see panoramic views of the city.
For the most epic view time visit for sunset on a clear day. Trust me, you will not regret doing this!
5. Cafe De Flore
One of the most famous and renowned cafes in Paris, located at 172 Bd Saint-Germain, Paris. The cafe first opened back in 1887 and even served famous guests like Picasso.
It is famously known for having the best hot chocolate in Paris; you simply cannot leave the city without trying it.
A quintessential Parisian spot, with Parisian-style service. It can be a little pricey, so if you're on a budget maybe order a couple of things.
However, its cobblestone street aesthetic and delicious croissants make it totally worth it.
The relaxing chic tables, crisp white marquee, and greenery offer an attractive backdrop for your Instagram shot.
6. Trocadero Gardens
Get yourself down to the Trocadero Gardens, and find the exotic carousel for the perfect location to take the most gorgeous Instagram pictures.
The retro-style carousel, lit up by lanterns and gildings, with the Eiffel Tower in the background is just to die for. For more romantic shots, come at night whilst the tower sparkles.
In the gardens, there are several sculptures to admire, such as the gilded bronze animal statues, and the two stone statues.
Jardins du Trocadéro is an open space in Paris that offers the Eiffel Tower on the opposite bank of the Seine.
The main feature of the gardens is the Fountain of Warsaw, offering twelve fountains creating columns of water twelve meters high.
7. La Favorite Paris
One of the most beautiful and aesthetic restaurants in Paris, the whole building is filled with flowers and pink decorations and lighting.
Put on your favorite pink outfit to match the aesthetic of this restaurant. The main entrance makes for a gorgeous photo spot. The convenient location makes it easy to find.
Serving french cuisine, including smoked salmon, duck confit, and truffle pasta, alongside crepes and parfait. You won't leave without a full stomach, as well as a full camera roll!
8. Bir-Hakeim Bridge
You might recognize this bridge from the movie Inception, starring Leonardo Dicaprio. This non-touristy spot is underrated for capturing excellent Eiffel Tower photos.
The steel bridge offers exceptional architecture and an endless variety of photographs.
To visit the bridge, get off at Bir Hakeim subway station or Passy station..It is recommended to take a ride on the subway between these two stations, as the train goes over the Bir-Hakeim bridge.
This is an experience you do not want to miss!
Don't forget to take a stroll under the bridge for more stunning scenes. The Bir-Hakeim bridge also looks wonderful at night time— especially during the magical Blue Hour. The bridge is one of few very well-lit photo locations
9. La Maison Rose
One of the most instagramed places in Paris, located up on the Montmartre. La Maison Rose translates literally to The Pink House.
If you have seen Emily In Paris you will recognize this street as it is known to be the prettiest street in Paris. Capture some elegant pink photos in front of the building.
Yet, this cafe is not just cute and pink. It is full of history. Serving coffee since the late 1800s, in the early 1900s, a woman called Laure Germaine and her husband Ramon Richot took ownership of the cafe.
The owners happened to be good friends with several artists, two of them you know pretty well: Picasso and Casagemas.
Unfortunately, Casagemas became very obsessed with Germaine, he wanted to marry her.. She refused all his advances and he ended up killing himself publicly in front of her.
Picasso wasn't here to talk his friend out of it and felt guilty for the rest of his life. But kept returning to La Maison to visit Germaine, and they remained friends until he died.
This tragic event inspired Picasso to paint his painting of 1901, "The Death of Casagemas" which is supposed to celebrate his friend's life.
10. Avenue De Camoens
Avenue de Camoens is a serene street, offering romantic views of the Eiffel Tower surrounded by stunning French architecture.
Another fabulous spot to capture your Eiffel Tower photos. Sit on the wall and capture some cute candid pics.
This residential area is home to an iconic balcony view that overlooks the eiffel tower. Make sure to look out for the fountain at the bottom of the street!
The short street turns into a stairwell that goes down a steep hill. If you're searching for Parisian beauty, then bring a picnic lunch and lounge with a view.
You're going to have to stand on the railing, but it's definitely worth it
Final Thoughts
Paris is filled with dozens of ravishing and instagramable spots and locations. Making an itinerary plan before your visit will be the best way to maximize the number of sites and instagramable locations you will visit on your Parisian holiday.
After all, you don't want to miss out on potentially stunning Instagram photos. So get your best outfit on, and don't forget your camera!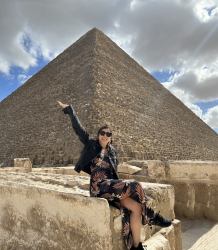 Latest posts by Claudia Torres
(see all)