15 Best Shows To See On Broadway
If you're planning on visiting New York City anytime soon, then seeing a Broadway show is way up there on the list of main things you need to do. For those who love going to see musical productions, Broadway shows are the holy grail.
The only issue is that there are so many great shows out there, how could you possibly choose which one to see?
That's where we come in. Here, we've compiled a list of 15 of the very best shows on Broadway that you can see today. 
To find out more, simply keep reading below.
1. Mary Poppins 
If you're searching for something fun, heartwarming, and lighthearted, then we recommend that you go ahead and see Mary Poppins.
A classic production that has stood the test of time, this musical harks back to our childhood. 
If you're a fan of the classic Disney version of this story, then you truly won't be disappointed. A stellar performance with all of the classic songs and tunes awaits you.
This show has actually received several awards, and it's not hard to see why. We truly love this musical. 
2. Hamilton 
All we can say is that if you haven't heard of Hamilton, you must have been living under a rock for quite some time.
Hamilton is known as being one of the most influential musicals of the decade, and tells the story of the founding father of the United States. 
Hamilton goes through several different struggles and turbulent times throughout the production, including the war for independence, and a hurricane that destroys his home on the Caribbean.
It's safe to say that this is an incredibly emotional play that helps to teach us a lot about human nature. 
Oh, and did we mention that there's rapping involved? That's right, despite the historical content of this production, it's actually incredibly modern in terms of the music.
3. The Book Of Mormon
Another great show that has been incredibly influential, The Book Of Mormon has become famous for its message of love and acceptance.
Despite the controversial topic of the musical, it is a beacon of light to watch, winning 8 Tony awards throughout the musical's time on stage. 
When it first made its debut in 2011, it became notorious for the topic that it covered.
Many people who hadn't seen the show were accusing it of mocking the Mormon religion. It does do this to a certain degree, but in reality, mocks religion as a whole. 
It is not designed to offend, but rather spread love and positivity to all who watch it. It teaches us that it is our differences that make us special.
If you want to view a heartwarming tale that touches upon these subjects, you'll adore The Book Of Mormon. 
4. Wicked 
All of us have heard of Wicked, an amazing tale that shows us the perspective of a character feared and reviled by children everywhere – the wicked witch.
This one is based upon the events of The Wizard Of Oz, but turns it completely on its head, and sympathizes with Elphaba. 
We also get to see Glenda the good witch too, and their complex friendship really drives the plot.
This is another show which teaches us to accept what makes us different, and that looks really aren't the most important thing. 
5. Beetlejuice 
For many of us, Beetlejuice was our favorite movie growing up. Therefore, the fact that they've transformed it into a full fledged, spectacular theater production is an absolute dream come true.
It features all of our favorite characters, including the much reviled and simultaneously adored Beetlejuice himself. This show will be running continuously on Broadway as of 2022.
6. The Phantom Of The Opera
If you want to witness a piece of theater history, then you absolutely need to see The Phantom Of The Opera. It's a truly spectacular production that, despite its age, is still chilling to watch.
First created by the famous Andrew Lloyd Webber, this production has actually been running for 29 years, winning over 60 awards in the process. 
If you've seen the movie, then you simply have to view the theater production that started it all.
7. Harry Potter And The Cursed Child
Calling all Harry Potter fans, we've got the perfect theater production for you! But no, seriously, if you're a Harry Potter fan and you haven't yet seen the Cursed Child, you're not really a Harry Potter fan.
This one follows Harry Potter's child, Albus, as he takes on his own adventure at Hogwarts. Based several years after the events of the Deathly Hallows, we get to experience the magic all over again.
It's incredibly nostalgic and innovative at the same time, and we get to see the difficulties that Albus must face as he walks in the shadow of his famous father. 
8. Moulin Rouge 
If you want to witness a production that's full of color and entertainment, then you simply must see the Moulin Rouge.
This production has been going for years, and it's not difficult to see why it's still so popular today. 
When you first see this production, you'll be blown away by the talents of the performers. Before the show even begins, you get to witness a truly spectacular burlesque performance that will knock your socks off.
The trouble is, once you've witnessed this musical once, you'll want to return again and again.
9. Little Shop Of Horrors
Another theater production that has been accompanied by a film release of the same name, this theater production is an incredibly entertaining watch with plenty of laughter involved.
It follows the lovesick Seymour, as he pines over his dream girl Audrey, who has a less than dreamy boyfriend. 
Despite the many fun moments in the production, there are some tears too, and it's the balance between these two different aspects that helps to make the musical so spectacular.
10. STOMP 
Everyone reading this list will have heard of STOMP. When it was first released, it made headlines as being one of the most progressive musicals of all time, and it's not hard to see why.
It's completely wordless, and instead communicates emotion to the audience via various different sounds and music.
It's a spectacular display of visual comedy too, and you'll be impressed by the untraditional path this musical follows. 
11. Some Like It Hot 
Marilyn Monroe made one of her most spectacular film appearances in 1959, Some Like It Hot. If you're a great lover of the movie, then you simply have to witness the show.
It's incredibly comedic in nature, and follows two best girl friends as they get themselves into some very sticky situations.
12. Juliet 
If you didn't enjoy Shakespeare in school, we can guarantee that this theater production will quickly change your mind.
This show asks the question, what would Juliet have done if she'd survived? 
It gives us a deeper and more nuanced understanding of Juliet's character outside of her relationship with Romeo, and the result is a theatrical marvel.
Along with this, there are a number of modern musical hits such as 'can't stop the feeling', that help to make this production incredibly entertaining and fun to watch.
13. Death Of A Salesman 
Perhaps you've heard of Death Of A Salesman, but have been wondering what it's really all about. It essentially follows the difficulties that a young man faces due to changes in society.
Some of the emotions and inner turmoils that he faces along the way can prove to be incredibly poignant to view.
We get to see 24 hours in the life of salesman Willy Loman, along with all the struggles that modern society has placed upon him.
The production that's currently showing on Broadway helps to give us a whole new perspective too, featuring an African American family at the center.
14. Into The Woods 
If you're a big lover of fairy tales, then we recommend that you witness this amazing production based on the tales of the Brothers Grimm.
One of the amazing things about this production is that it's like you're witnessing many different ones all at once. 
You can see your childhood favorites take to the stage, with Jack and the Beanstalk, Little Red Riding Hood, and Prince Charming.
15. Dear Evan Hansen 
If you want to witness something a little more modern, Dear Evan Hansen follows a young man who struggles with social anxiety.
The highly relatable narrative makes for a poignant and intriguing watch. 
Final Thoughts
To sum up, whether you wish to see something modern, or something that's been on the stage for many years, Broadway has a production that caters to all tastes. Simply read our list above, and choose your favorite.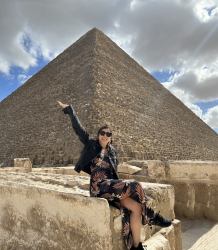 Latest posts by Claudia Torres
(see all)