How To Visit The Cliffs Of Moher [The Beauty Of Ireland]
The Cliffs of Moher are a beautiful part of Ireland's coastline and one of the best places to visit if you want a stunning trip or if you are a tourist.
The views you get on hikes to this destination are absolutely unbeatable and it is understandable how this is one of Ireland's top landmarks.
One thing we do recommend doing if you are planning to visit this location is to try and work around the weather. While you will still have a good time if it is raining, you will enjoy your trip a lot more if it is not.
So, if you are planning to visit this part of the Irish coastline and want to know how to make the most of your trip, keep reading!
The Cliffs Of Moher
If you do not know where they are, the Cliffs of Moher are going on the western coast of Ireland within County Clare and they give you an astounding view of the Atlantic Ocean.
Maybe avoid getting anywhere near the edge if you are afraid of heights because the highest ones go up to 214 meters above sea level.
While there are some spots which you will want to visit above others, this area stretches all the way across 14 kilometers from Doolin all the way south to Hags Head. There is a super easy to follow trail for hiking which is easy to join at different points.
For the sake of convenience there is also a visitor center located around the middle of the cliffs and this also doubles as a marker for the highest point of the cliffs.
This is also a very popular tourist attraction with more than a million visitors annually, 
This is also a great point to visit if you are a movie fan with some famous scenes being shot here with two of the most famous example being Harry Potter and The Princess Bride.
How To Visit The Cliffs Of Moher
If you want to see as many views and amazing sights (Also check out Amazing Things To See In Philadelphia) in a more limited trip, we recommend starting with the visitor center as it is close to some of the highlights of the Cliffs of Moher.
As previously mentioned, the center is found at the highest point of these famous cliffs and you can choose between hiking to Doolin or Hags Head depending on if you want to go north or south. 
The visitor center is also close to O'Brien's Tower if you want to climb this when you are there too. It is worth noting that to enter the visitor center it costs 7 euros, but you do not need to pay this fee to access the Cliffs of Moher.
You do not have to start at the visitor center though. There are many different approaches people take to walking along the Cliffs of Moher.
For example, it is a popular choice to walk 8 kilometers down from Doolin and to then take the shuttle bus back to where you started.
Or for a shorter option you can walk north from Hags Head for 6 kilometers and then shuttle back as well.
If you are feeling adventurous, you of course have the option to walk all 14 kilometers with the visitor center being the perfect stop for a break, but be prepared for the long trail!
Walking Route
A great tip if you really want to catch the Cliffs of Moher on a day with good weather is to ensure that you are staying close enough to them, that you have a variety of days to choose from to walk the cliffs just in case there is a high chance of rain.
It is worth noting that if you want to access a more dramatic route, we recommend starting at Hags Head since the cliffs are a lot more sizeable than the northern portion of the cliffs which you will find closer to Doolin.
But if you want a more quaint walk, we would recommend starting at Doolin. 
Tips For When You Are Visiting
We would recommend giving yourself at least 5 hours if you are planning to do the whole 14 kilometers but adjust this based on when and where you want to take breaks and your pace.
Also prioritize your safety over everything, you can always visit again and if the conditions and visibility are bad, it is not worth risking anything in spite of how stunning the walk is. 
As mentioned in the previous section, if you want to see a more dramatic view, walk from the southern part of the route, but even if this is not an option, the walk from Doolin is still beautiful.
Also, starting at the visitor center, or ending there is a great option and the shuttle service is a wonderful addition.
Visiting With Kids
If you stay on the trail you should not have any safety concerns, but some sections of the trail do get within a few feet of the cliff, so we do not recommend coming with young children, or children you can not trust.
It is our judgement to recommend that you stick to kids over the age of 12, since under this age are just too unpredictable.
If you really want to walk it with younger kids, we recommend starting at the visitor center and only walking a short distance.
Staying Nearby
There are plenty of great options to stay in, but you will get the most choice if you plan to stay in Doolin.
You could go to the Moloney Bed and Breakfast which is on a beautiful farm, but you will need to book far in advance, and the Doolin Inn is another viable option which has some great food options available too.
Summary
We highly recommend visiting the Cliffs of Moher if you are in this area of Ireland, but ensure that you can walk in safe conditions and are with a safety conscious hiking group!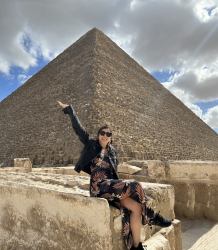 Latest posts by Claudia Torres
(see all)