Christmas In London: Best Shops And Sights
I'm dreaming of a white Christmas – in London! Are you dreaming of one too? Maybe you're already planning a trip, but you're overwhelmed by the choice and size of the city.
Don't worry, I've been in the same position for many a trip around the world! But this guide will help to point you towards the best and brightest choices that you absolutely must see in London.
Whether you've already booked that magical trip, or it's a plan in the making, this guide will be a useful companion!
Where Is The Most Christmassy Place In London?
There are plenty of options to choose from for this question. Really, it depends on what kind of Christmassy experience you are looking for.
From shops to sightseeing – there's plenty to do and experience in the capital city! We'll focus on the sights first since you might want to plan your shopping trip around these.
Here's a range of options and the reason I've chosen them:
Carnaby Street
Location: Carnaby Street, Soho, London, W1F
Carnaby Street has one of the most impressive sets of Christmas lights in London. The theme of lights changes each year – in 2021, for example, they had a kaleidoscope theme. Over 600 butterflies "flew" across the street, all lighting up in different colors.
While the cost is free, there's a shop where you can support Afghan refugees by making a donation if you please. The best time to go for pictures is obviously at night!
Natural History Museum
Location: Cromwell Road, South Kensington, London, SW7 5BD
You'll have no doubt seen this iconic building in many movies and TV shows, including the iconic Night of the Museum series. During the holiday season, outside the museum sits an ice rink, which perfectly sets the wintery, festive atmosphere.
If you want to treat this as a sight, you can see it for free, feeling the chill of the city and the ice rink. If you want to put your skates on and give it a whirl, however, there's a fee for entry!
Somerset House
Location: Somerset House, Strand, London, WC2R 1LA, UK
Somerset House is another iconic sight to visit in London during Christmas. In fact, it was even featured in the holiday movie Love Actually – so even the movies have given it a stamp of Christmassy approval!
Like the Natural History Museum, there is an iconic ice rink that sits at the heart of the building.
Harrods
Location: 87-135 Brompton Road, Knightsbridge
With its beautiful Christmas lights and decorations, Harrods has to be up there in terms of looking the part. Over 12,000 lightbulbs are used to dazzle the building during the season!
The store, however, is just as beautiful and fantastical on the inside. From big Harrods bears to several magnificent Christmas trees, stepping into Harrods is like being a kid in a candy store – but the best part is, it's for adults too!
Winter Wonderland
Location: Hyde Park, London W2 2UH, UK
If you were to ask any Londoner where their favorite place in the capital at Christmas time was, they'd probably tell you it's Winter Wonderland. It's the main Christmas Market in London, so it could easily be up there on our best places to shop list as well.
You'll get to see Hyde Park dressed up in all of its wintery attire – see the lights, and rides, and shop for plenty of goodies. It's definitely worth visiting with friends or family!
How Can I Spend Christmas In London?
Truly, going along with the magic of Christmas, you can spend the holiday in London however you wish!
Still, I would recommend a mix of sightseeing and shopping – after all, it would simply be rude not to buy the occasional present for your nearest and dearest while you're away!
Here are some of the best places to shop in London at Christmas. I'd recommend checking them out while you're walking around and taking in the beautiful sights.
Covent Garden And Seven Dials
In Seven Dials, you're sure to find an array of heritage brands, boutiques and wellness stores. The area is known for its seven cobbled streets – if you visit, you'll feel like you've walked straight into a Christmas movie.
Take a stroll to nearby Covent Garden, and you'll find many high-street shops and magical Christmas trees alike.
You'll find brands such as Hackett, Tiffany & Co, Mulberry, Jo Malone, and Charlotte Tilbury. Plenty of opportunities to shop for your loved ones (and, hey, maybe even yourself)!
Oxford Street And Regent Street
These are some of the biggest street names known in London, and at Christmas time they're known for sparkling the whole area with their Christmas lights.
There are classic stores such as Selfridges on Oxford Street and John Lewis. Regent Street is home to the likes of Hamleys, Liberty London, and an Apple Store.
Carnaby
Having already been given a mention for its iconic Christmas lights, Carnaby is another exceptional place to shop til you drop this holiday.
Similarly to Seven Dials, Carnaby is made up of 14 pedestrianized streets, simply dedicated to shopping. It would be rude not to! You'll be able to find the likes of Diesel, Sweaty Betty, and Fred Perry.
Mayfair And St James's
What could be treated as a sight in itself, the Mayfair and St James's area is the location of the iconic Fortnum & Mason building.
Make sure you go to this one when you're hungry, and visit the food hall, where you'll be able to indulge in Christmas puddings, mince pies, chocolates, Christmas hampers, and more.
Knightsbridge
Of course, we've already mentioned the famous Harrods as a sight in itself, but you can also shop there.
Excitingly, a giant Christmas shop is filled with decorations, luxury Christmas crackers, and expensive ornaments. With over 300 departments to choose from, there's something for everyone! 
A few steps away in the Knightsbridge area sits Harvey Nichols. Stop there to shop for fashion, beauty, and more Christmas-themed goodies to your heart's content.
Summary
To conclude, there are several shops and sights you should make time for while you're in London. However, it's not possible to do everything, so hopefully, this guide has inspired you to seek out the best of the best.
Whether you want to shop for your friends or family or treat yourself to some well-deserved indulgences, this guide has covered the top five sights and shopping experiences in London.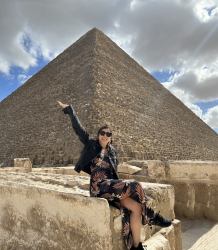 Latest posts by Claudia Torres
(see all)